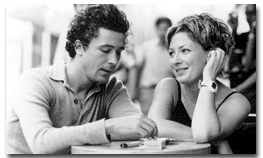 Frank (Aidan Gillen, left) and Ruby (Kate Ashfield) sit down for lunch in Jamie Thraves' first feature-length film,
Arizona Daily Wildcat
'The Low Down' looks closely at the everyday
GRADE: B+
Movies that begin with commonplace events, and then end without resolution tend to be lemons. Somehow, "The Low Down" is like that, and yet doesn't seem to suffer for it.
Shot on simple digital video, the film focuses on relationships between the several starring characters. It achieves a level of intimacy which often transcends the traditional limitations of film. The audience connects with the characters on the simplest human level, and the plot - or lack thereof - becomes irrelevant. However, the feeling that the filmmakers are being blatantly honest about how we live on a daily basis more than makes up for it.
The moments of the movie that make the audience feel like it is eavesdropping on very personal conversations can either be attributed to writer- director Jamie Thraves and his fantastic dialogue or the freedom he gives his actors on camera. There are no last names, no flashbacks and no slogans. It is as if all of the characters are real people who haven't noticed the hidden cameras all around them.
Frank (Aidan Gillen, also Stuart Jones in Britain's "Queer as Folk"), is a prop-maker for a local television studio. He works with two close friends, Mike (Dean Lennox Kelly) and John (Tobias Menzies). They meet their friends for coffee every day, and generally enjoy youth and simple pleasures like day trips to the country. Frank begins dating a girl he met while searching for a new apartment, while the friends bend and sway with the trivial changes that affect them. Beyond that, "The Low Down" seems to leave out the big picture.
Rather than create a spectacle on film, Thraves makes the lives and bodies of his characters into whole worlds - microcosms which thrive in complex and fascinating ways. Often the camera will zoom in on Frank's eyes when he is alone in his room, or focus on his hands as he kisses his girlfriend. We watch thoughts unfold and feelings change simply by seeing the minute gestures that are often ignored in a stereotypical Hollywood fashion.
This approach would be impossible without phenomenal actors, and the cast of "The Low Down" carries that weight impressively. The actors manage to express volumes of thoughts and emotions through tiny movements that are often overlooked - even in real life. No acting feat can surpass the ability to effectively express how a character feels about something while simply sitting at a table.
"The Low Down" is more honest than most people can afford to be and often more true than the perception we have of our own lives. The camera is nestled inside the consciousness of each of its characters, so that nothing escapes to the audience without being cinematically touched by the imaginary minds of Thraves' characters.
Even though the film ends with a simple shot of Frank entering his apartment, the cut to a black screen makes it hard to resist tears. Something about being that close to someone - even someone who isn't real - turns entertainment to empathy and makes blockbusters look tiredly unrealistic.