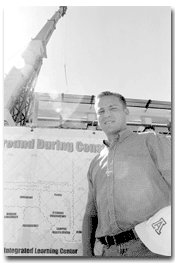 CHIHIRO NAGURA
Gilbert Davidson, assistant project manager for student union construction and a graduate student in public administration, stands in front of the new union Friday afternoon. Davidson is one of the University of Arizona alumni who contributes to UA construction projects.
Arizona Daily Wildcat
Alumni see work as being a "part of something bigger."
Gilbert Davidson remembers the UA Memorial Student Union when he was a student as a place with bad lighting and poor aesthetics.
"There were places where the roof leaked, and buckets were set up in the middle of the floor to collect water," Davidson said.
Since his graduation in 1999 with a degree in business and public administration, Davidson has become the assistant project manager for the student union renovation and is one of many alumni to work with campus construction.
Davidson has been on every committee and planning group since the project started and has worked on everything from finance to building design.
"My position is unique because I work in business affairs, but I also assist the programs that are being affected by construction such as ASUA, the U of A Bookstore and career services," he said. "I get to work with the greater campus community on various issues."
Davidson knows what it's like to represent UA students. He was Associated Students president from fall 1997 to spring 1998, where he worked to secure funding for the union renovation.
"I felt it was an important facility for the student body, and many students worked to convince the administration that renovation was a priority," he said.
Davidson's office may have moved to the sixth floor of the Administration building, but part of his job still includes addressing student concerns. He chaired the construction communication team, which was put together to address the impact construction would have on students.
"We tried to minimize the impact on students by using (signs) and showcasing models of the project," Davidson said. "I think that team has done a good job of getting its message out. We have received a minimal amount of complaints from students."
Doug Huie, senior project manager for Swinerton and Walberg Builders, started as a UA music student but was led to architecture by the influence of his father, a Tucson architect.
Huie graduated in spring 1978 and worked in San Diego, Georgia and Alaska before returning to Tucson in 1986.
He has worked on campus since 1999, when Swinerton and Walberg was working out of the men's locker room by the Ina Gittings swimming pool. Workers used the shower room for storage and built their office in the locker room, where they put a few air conditioning units in the windows.
However, Huie is not complaining about his old office because his job has gotten him used to temporary office space - although he does appreciate being in a more central campus location above the bookstore, where the offices are now.
Davidson and Huie agree that being alumni is a benefit in the workplace.
"I understand the culture of the university," Davidson said. "I am familiar with the processes and procedures that go on here. It helps me get a leg up on dealing with different people."
Huie said he has a better appreciation for the impact construction has on campus.
"How much ground we take impacts how people circulate, especially in high-traffic areas like the (UA) Mall and in front of the bookstore," Huie said.
He added that students who are going to graduate before construction ends should look at the long-term effect - that future generations of UA students will get to enjoy it.
"It is good for students because their degrees will mean more," Davidson said. "The UA name will be better."
"In the end this will make a much better campus," he adds. "Students who will not be here when the work will done can come back and say they were here when all this was being done. They got to see it happen."
For Richard Luckett, working in construction has added subject material to the two architecture courses he teaches at the UA.
Luckett works for MHTN Architects Inc., and is also an adjunct architecture professor at the UA. He graduated from the UA architecture school in 1991 and became involved in the renovation project in 1998. He now works as the project architect in contract administration.
Luckett integrated the two courses he teaches with the union project. He brings both his architectural internship and his projects and ethics class through the union design process each semester.
"I like to show the students how messy working on a project as big as this one is," Luckett said.
He added that if one took all of the blueprints drawn for the union project and laid them on top of one another, they would probably make a pile 4 to 5 inches thick.
"I like to impress upon them the extraordinary amount of work that goes along with building the biggest student union in the country," Luckett said.
Another graduate, Robert Mitchell, who obtained a degree in architecture at the UA in 1999, is involved in campus construction.
"I really enjoy working on this project and getting back to campus," said Mitchell, a Swinerton and Walberg Builders project engineer.