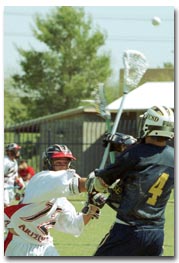 KEVIN KLAUS
Sophomore midfielder Jay Spatafora fights with a UCSD opponent for the ball Saturday afternoon at Laxcat Coliseum. The UA men's lacrosse team advanced to the Final Four of the West Coast Lacrosse League by knocking off the Tritons at home.
By Jeff Lund
Arizona Daily Wildcat
The UA lacrosse team advanced to the semifinals of the West Coast Lacrosse League playoffs Saturday with a 12-7 victory over UC San Diego. Led by another stellar performance from Charlie Mink, the Laxcats used a third-quarter outburst to run away from the Tritons.
Arizona will take on Sonoma State Saturday at the WCLL Final Four in Davis, Calif.
"It was good to get it over with," UA head coach Mickey-Miles Felton said of the victory. "I am pleased with the win, but we have a lot of work to do before this weekend."
The Laxcat defense kept UCSD's offense in check as Felton's team jumped out to a 3-1 lead after the first period. Led by their first team All-WCLL selections Tommy Christian and Jeff Cady, the Laxcats kept the clamps down on the Tritons as the Laxcat offense found the net four more times in the second quarter to take a commanding 7-2 lead at the half.
The Laxcats put the game away in the third quarter with a five-goal burst.
The Tritons responded with three goals and added two more in the fourth quarter.
Charlie Mink led the Laxcats with six goals and an assist.
Josh Morrison and Jay Spatafora each added two goals in the win.
The Laxcats did get a couple scares when Cady and Spatafora went down with injuries. Cady re-injured his ankle, and Spatafora suffered a shoulder injury. While Cady is expected to return to action against Sonoma State, Spatafora is doubtful for this weekend's game.
Goalie Greg Parkington said he was pleased with the team's effort in the wake of the players' injuries.
"The defense did a good job of shutting (UCSD) down," Parkington said. "Jeff is a really great player. It was hard to watch him go down. He plays a great role in the defense, but we have the personnel to get the job done."
The Laxcats will spend this week preparing for the No. 4 Cossacks, a team that has been tearing through top 20 teams, recording a 7-2 record when facing ranked opponents.
Felton said he's not worried about Sonoma State's record.
"I don't like watching the scoreboard," he said. "It is hard to compare scores. I think we match up very well against them. Their strength is on the attack on offense. Our defense - with a healthy Jeff Cady - should be able to do well, and our offense is going to be difficult for Sonoma to deal with."