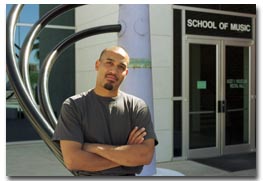 BEN DAVIDOFF
Music senior Allen Goltz has been recently recognized as Senior of the Year by the School of Music in the College of Fine Arts. Goltz began singing in harmony with nursery rhymes at the age of 3.
Arizona Daily Wildcat
Voice senior Allen Goltz may be a soloist, but that hasn't stopped him from exploring his many voices.
From singing to playing the viola to filmmaking, Goltz displays a versatility that began as a child when he realized he could carry a tune.
This talent led Goltz to be chosen as one of six recipients of the Senior of the Year award from the UA College of Fine Arts.
Goltz has also performed in many classical and operatic roles, which is why he thinks he was selected for the Senior of the Year award.
"I think it was the amount of performances I've done," he said. "I've been very involved these last three years. I'm in the soloist community for sure."
Vocal professor Josef Knott, one of the people who nominated Goltz for the award in March, disclosed why he felt Goltz was deserving of the award.
"Allen has just excelled since he arrived here," Knott said. "He was the recipient of the Fine Arts department's prestigious Medici award, he's maintained very high grades and he's just very well-rounded."
He added that it was Goltz's vitality that truly set him aside from so many other qualified prospective recipients.
"He's a good person," Knott said. "He has a humanity, a human spirit, about him that I find endearing."
When he was just 2 or 3, Goltz's mom realized her son was actually harmonizing to the nursery rhymes most children simply "goo" and "gaa" along with.
Born and raised in Tucson, Goltz began performing with the normally all-adult Tucson Masterworks Chorale at the age of 10 until the bane of male adolescence hit - his voice changed.
"I stopped singing for a little while and let puberty happen," he said.
Eventually, the 14-year-old Goltz, though equipped with a new, crack-free voice, wanted a change from the singing scene altogether. It was then he started studying instruments - specifically the violin and viola.
The skills he acquired throughout high school won him a scholarship to study viola in Miami in 1992, but after a while, Goltz said he felt bored once again.
He wanted to change his major to voice, but felt that doing so would leave the school's already small program desperate for musicians which "kind of depended" on his presence.
Not letting the external pressure interfere with his dreams, Goltz moved back home. Though he was still a viola major when he transferred, UA's voice program was ready to embrace him.
He added that the motivation of the UA's music faculty has been a major source of support for him through his career.
"The UA faculty has helped with that," he said.
Other UA strengths are, according to Goltz, the amount of available performance opportunities and resourceful teachers who are willing to focus on vocal technique.
Musically, Goltz said he would like to explore singing more "jazz and more popular parts, too."
"My favorite vocalist right now is this Russian baritone named Dmitri Hvorstovasky," he said, "and though it'll probably get me beat up, I also really respect Neil Diamond, Barbra Streisand and Whitney Houston - old Whitney Houston."
Still, Goltz is not quite sure singing is his true calling.
"After graduation, I'm going to work with my friend to make a movie," Goltz said about the film for which he wrote the story. "I'm going to shift gears."
If he does come back to singing, Goltz said he believes the education he has received here has prepared him for a career in music.
"(UA gave me) good enough musical training that if I decided to sing professionally, at least I'd be able to get my foot in the door," he said. "I just don't want to grow up."