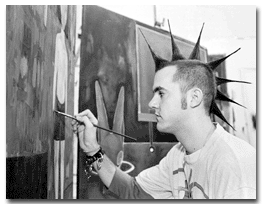 KEVIN KLAUS
Combined media senior John Richey works on an oil painting from his series titled, "Sometimes Sorry Isn't Good Enough." Richey, along with five other students, was chosen as Senior of the Year by the College of Fine Arts.
Arizona Daily Wildcat
The tables have turned for John Richey.
Though the combined media senior likes to focus on issues of self-recognition and communication as the basis for his artwork, this time around, it is he who is being recognized for his achievements as both a student and an artist.
Richey was recently chosen as one of six students to receive the Senior of the Year award from the College of Fine Arts.
He said he was shocked to learn he was being given the award despite the long hours he has dedicated to his studies and artwork.
"It was really surprising I guess when I found out - although I think in the time I have been here, I have worked really hard both in and out of the department," Richey said.
Richey said he creates work in a wide variety of forms which include both three-dimensional and two-dimensional media.
"I do painting and drawing as well as well as combined and mixed media work, including installation, video installation, performance and some sculptural assemblage," he said.
Richey's work also deals with ideas of identity, individual and societal communication and what happens when communication among people breaks down.
"As far as content, I deal alot with ideas of self-definition and communication - the different ways we communicate and what happens when communication is not functioning interpersonally and as a society," he said.
However, this wide breadth of materials and ideas was not always the case for his work and is due in part to his education here at the University of Arizona.
"I have really enjoyed my time here - getting to know peers as well as having a dialogue with faculty," he said. "I think I have learned a lot and explored new media as a result of being given the chance to do things I wouldn't have necessarily gotten to do as far as trying out new techniques and areas of study.
"I came into the department as a painting and drawing major, and I think my education here kind of widened the scope of what I thought I could do." he added.
Richey even went so far as to change his major from an emphasis in strictly two-dimensional art to one in combined media to allow himself to work with these new materials.
Leah Begitschke, a combined media senior and fellow member of Team New Genre, has seen Richey's work evolve since freshman year.
"I've been in class with him all four years and I have seen his work change and progress and go into different types of media. I think he has got a really strong handle on the ideas behind his work and how to convey them," she said. "I find his work to be really interesting and thoughtful. It is stuff that I haven't seen before - he has some similar themes that go throughout his work and it is neat to see the different ways he chooses to represent his ideas."
Because Richey is a prolific artist, he has had many of his pieces shown both on campus and in the Tucson area.
"I have had work in the (Memorial Student Union's) Arizona Gallery twice for the annual juried show they used to have, with Steve Jarvis in the Lionel Rombach Gallery and worked in the BFA show at the Joseph Gross Gallery," he said. "Also my work as well as (the work of) my printmaking classmates is currently hanging at the Carbonbase gallery."
Richey's future plans include staying in Tucson to work for the summer before moving to California for graduate school.
"As of right now my plans are to graduate from here and work at Kinko's full time this summer." he said. "I have accepted a really good offer to go to the University of California San Diego in La Jolla for their two-year fine art graduate program. After that I am thinking I probably want to move to the New York area to make work there ands see what happens."
Richey said he does not see himself changing to another field of study any time soon.
"I don't know what I would do if I wasn't making art. I can't imagine myself doing anything else," he said. "I think I will make the best of every situation regardless of whether or not I am in a wonderful art environment or something really kind of crappy. I think I would make work regardless and make it to the quality I feel I have to make it."