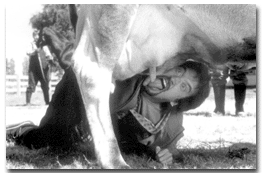 Photo courtesy of Regency Enterprises
Gord Brody (Tom Green) gets "udderly" ridiculous in his latest movie "Freddy Got Fingered." The movie is in theaters now.
By Adam Pugh
Arizona Daily Wildcat
'Freddy Got Fingered' initiates the gag reflex, still leaves audiences laughing
Grade: B-
Do you know that feeling you get when someone mentions that your parents still have sex? That is the only way to describe the way you will feel after seeing "Freddy Got Fingered."
Directed and co-written by gross-out king Tom Green, "Freddy Got Fingered" is at times an unnecessary look into the demented mind of a madman. The movie is about a 28-year-old boy (trapped in a man's body) named Gord Brody (Tom Green) who still lives at home. His father Jim (Rip Torn) is fed up with his son's slacker attitude and orders him to get a real job.
This foul-humored comedy starts off relatively innocent. It is not long, though, before a touching moment between Gord and his parents right before he leaves for Hollywood quickly dives into the demented, overdone humor of Tom Green.
On his way to California, Gord is driving down the highway when the film suddenly cuts to a horse growing an extremely large erection. Gord, of course, has to stop and scream, and then proceeds to jump the fence and "play" with the horse (if you know what I mean). This was one of the reasons the ratings board almost gave this movie an NC-17 rating. Oh well - on to better things.
Gord starts his new job at the local cheese sandwich factory in California and of course has to wear the cheese for some unknown reason. In his spare time, Gord works on his drawings which he hopes to pitch to an animation company. Although this section of the movie is probably the only part without any overtly lewd humor, more of it comes along very quickly.
Gord is told he is a failure by the chairman of an animation company, so he gives up and moves back home with his parents. This leads into the wackiest events of the entire movie, which show the true insanity that plagues Gord. The conversations Gord has with his father - or rather, yelling matches - venture where no movie has gone before. But you probably won't remember that when Gord starts to play with an elephant's "trunk" - if you get my drift.
The strange humor escalates when Gord meets wheelchair-bound Betty (Marisa Coughlan) and asks her for a date. But instead of going out, Betty just wants Gord to hit her legs with a bamboo cane as hard as he can, which she enjoys just a little too much - yet another typically strange display of Tom Green's humor.
"Freddy Got Fingered" occasionally gets lost in its own plot, but that really doesn't matter. The movie takes on a life of its own, with endless pranks using animals (dead and alive) and, of course, Gord himself, who pushes the buck with every person he meets.
The movie, as it keeps the viewers on their toes with hidden messages and jokes incorporated into each scene, ends with a blast of sick pranks and gags leaving his family, like the audience, broken up and a bit nuts.
If you like "The Tom Green Show" then you will most likely also want to see "Freddy Got Fingered." But even Green may surprise you with some of the "humor" in the film.