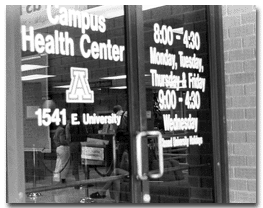 MICHELLE DURHAM/ Arizona Summer Wildcat
The Student Health Center will be re-located and receive a new building on East Sixth Street and North Highland Avenue to better accommodate students during the next few years. Creating a welcoming ambiance, that separates the Health Center from the academic setting of the university, is among the priorities of the Health Center that will be completed in Fall 2003.
Arizona Summer Wildcat
New building to be completed Fall 2003
Housing all health-related programs and facilities under one roof while also providing a peaceful and healing environment for students will be the goal of the new Campus Health Center.
Set to be completed in Fall 2003, the center will have a new design that will be more relaxing to those who use the facility, said Kris Kreutz, associate director of Campus Health.
"The building is made in a 'C-shape' with the opening toward campus," he said. "It centers around an atrium which will make it more tranquil and peaceful. This will be a place where students can come to relax and we will also have meeting rooms for the student community. We don't want this to be just a healthcare facility."
The new design of the center is of interest to Kreutz as well, because it will provide students with a peaceful ambience made to start the healing process as soon as a person enters the building.
The new location is also in the midst of the new residence halls being built which are estimated to have 700 new beds.
The new facilities will have a more "on campus" feel to them, said Kreutz. "Students will have more access to the services we provide, especially now that we will be so close to residence halls."
"Students will have more access to the services and information we provide, he added. "Our current building is kind of away from the action. Students have to walk a long way to get to us and the building doesn't provide the kind of design we need to be more efficient."
The new center will also include an expanded pharmacy, rotating specialists, X-ray lab and acute care and general medicine abilities, said Kreutz.
These programs exist now at the center, Kreutz added, but they will be able to run much better at the new center.
"There will be multiple rooms for specialists, rather than one room per specialist, which is what we currently have," he said. "This means there will be less waiting and more people can be seen in one day."
The plans also include a gallery, which will serve as a place for exhibits on health or health related activities, Kreutz added. Examples include exhibitions during AIDS month or presentations for on campus health awareness.
Health Promotion and Prevention services, currently located in Old Main, will also move to Campus Health's new location to provide more complete care.
"These offices are responsible mostly for providing students with health information they otherwise wouldn't be inclined to ask about," said Kreutz.
"They want to get the information to all people," he added. "They also provide facts about health and try to get rid of myths or notions surrounding health issues."
The new Campus Health Center will be located on the corner of East Sixth Street and North Highland Ave.