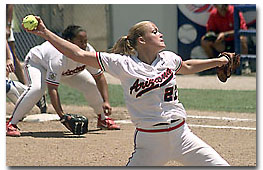 AP Photo
By Connor Doyle and Ryan Finley
Arizona Summer Wildcat
Finch finishes perfect season with 4-hit shutout against UCLA
The UA women's softball team did something no other team on campus did all year - live up to its preseason hype.
The Wildcats took their sixth NCAA National Championship by defeating UCLA 1-0 in Oklahoma City May 28. In taking the title, Arizona's eight seniors avoided becoming the first ever class to not win a championship under head coach Mike Candrea.
"This is icing on the cake for us," senior third baseman Toni Mascarenas said after the game. "We've had good teams all three years and our seniors · are very deserving."
Candrea agreed.
"This was a great one because of the senior class," he said. "It was their last chance to win a championship, and they did."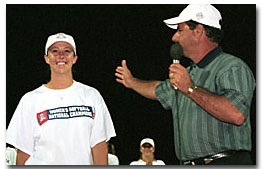 Michelle Durham/Arizona Summer Wildcat
UA took the title game the way they won most of their contests this season - behind the stellar arm of junior pitcher Jennie Finch, who capped off a perfect 2001 season by shutting out the Bruins, running her season record to 32-0 with a 0.54 ERA.
"If you look at the history of the sport, there have been very few pitchers that have done what she did - going the entire season undefeated, especially in such a difficult (Pacific 10) Conference," Candrea said. "We've had some great pitchers - like (former UA All-Americans) Susie Parra and Nancy Evans - (and) she fits right in there because those were players that were able to take us to the big game and win it for us."
The Wildcats' lone run came courtesy of senior catcher Lindsey Collins, who hit a one-out, fourth-inning home run to right center field. The run was all the Wildcats - and Finch - would need.
"I just wanted to come out and hit my spots and stay relaxed," Finch said. "We've faced (UCLA) many times so I know a lot of their hitters. It was just a matter of hitting my spots and using my defense."
The championship game came just days after what many are calling one of the greatest games in college softball history - Arizona's come-from-behind 5-4 victory against Oklahoma on May 25.
The Wildcats dug themselves out of a four-run deficit with a three-run homer off the bat of Mascarenas in the sixth inning.
"I really thought that Mascarenas could have been the co-MVP," Candrea said. "She played her best softball of the season in the last two weeks, which is so important."
UA tied the game in the seventh inning, when freshman outfielder Mackenzie Vandergeest hit a leadoff shot into the right field stands.
With the momentum in their favor, the Wildcats scored the winning run in the top of the eighth inning.
After Nicole Giordano singled and was bunted to second by Mascarenas, freshman Leneah Manuma was intentionally walked to bring up Finch with runners on first and third and one out.
Finch hit what seemed to be a routine double-play ball, but Oklahoma shortstop Kelly Braitsch threw wide of the first baseman, allowing Giordano to score the winning run.
Following the game, Candrea was at a rare loss for words.
"Anything I say is an understatement," he said. "I've seen this team do some amazing things. When we were down, I didn't see panic - I saw determination."