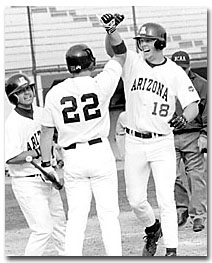 ARIZONA DAILY WILDCAT/ FILE PHOTO
By Connor Doyle
Arizona Daily Wildcat
Duncan, Durazo cap stellar seasons with trip to the pros
Last week, Shelley Duncan was taking batting practice at Yankee Stadium. Today, he is on his way to becoming a member of the New York Yankees.
The hulking junior right fielder was one of two UA players selected on the first day of the Major League Baseball Amateur Draft yesterday.
Duncan was selected as the 62nd overall pick in draft by the three-time defending champions, while senior first baseman Ernie Durazo was taken in the 12th round by the Toronto Blue Jays, 362nd overall.
"Just being drafted is a real honor," Duncan said. "It's something I've looked forward to for as long as I can remember. And to be selected by an outstanding organization like the Yankees is a fantastic way to start my professional career."
Duncan, a first-team All-American, is expected to leave the University of Arizona and sign with the Yankees, a team whose three outfielders - Bernie Williams, Paul O'Neill, and David Justice - are an average of 34 years old.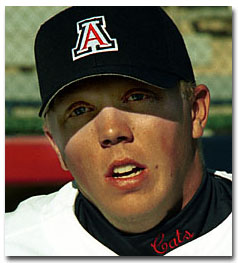 Shelley Duncan
"I think he's going to be one of the kids that makes it to the pros," said UA baseball head coach Jerry Stitt. "I see a three or four year minor league career before he makes it up to the major leagues. It won't be long before he'll be pounding them for the Yankees."
Duncan - described by Yankees.com as an "intimidating presence at the plate"- will likely join his father and younger brother at the professional level. Duncan's father, Dave, and younger brother, Chris, are both in the St. Louis Cardinals organization.
"Shelley's been one of the great pleasures I've had in coaching," Stitt said. "He was a great kid, and a great talent."
The Yankees had been one of the two teams that Duncan worked out for last week - the Texas Rangers being the other - and according to Stitt, Duncan was hoping to be drafted by New York.
Duncan's selection capped a season of record-breaking performances and post-season accolades. Duncan - who prepped at nearby Canyon Del Oro High School - broke UA's career and single-season home run records en route to being named a first-team All-American by both USA Today's Baseball Weekly and Collegiate Baseball Newspaper.
Durazo finished the season tops in the Pacific 10 Conference in doubles and runs scored, second in hits and third in batting average.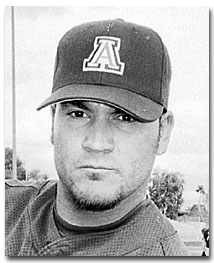 Ernie Durazo
"It's pretty tough to be drafted in the top ten rounds as a senior unless you're a pitcher, so this is really great for Ernie," Stitt said. "He was one of the best hitters in the country this season and was a great hitter for us."
Stitt said he believes that Durazo will eventually be converted to a catcher in the pros, an idea that Tim Huff, Area Supervisor of Scouting for the Toronto Blue Jays, didn't dismiss.
"We like his versatility," Huff said. "He can play first base, third base, outfield, or catcher. This first season, we're just going to get him out there and let him start hitting, and put him in a position to keep him in the pros as long as we can."
Huff also raved about Durazo's off-the-field reputation.
"He's going to be a leader in the clubhouse," Huff said. "We picked that up by getting to know him. We think he's a great guy and will be a great team player."
Duncan and Durazo weren't the only players associated with the Wildcats to be taken in the draft. Three high school players who signed letters of intent to play for Arizona next season were selected on the first day.
J.J. Hardy, a shortstop from Sabino High School, was taken 56th overall by the Milwaukee Brewers. His cousin, infielder John Hardy, was taken 323rd by the Baltimore Orioles, and shortstop Jason St. Clair was taken 289th by the Tampa Bay Devil Rays.