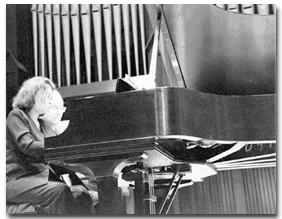 KEVIN KLAUS
Paula Fan, left, and Rex Woods entertain an audience yesterday at Holsclaw Hall by playing a 1938 piano sonata. The concert was part of Berlin 2000, to celebrate a new Germany.
Arizona Daily Wildcat
Week of events looks beyond stereotypes; documentary explores racism, xenophobia
A week-long celebration of German culture culminates today with student speakers on the UA Mall and a panel discussion.
Sponsored by the University of Arizona German studies department, "Berlin 2000: Capital of the New Germany," explores the nation's past, present and future, all with a focus on its capitol city.
"Berlin is a fascinating place with so many different histories," said Thomas Kovach, head of the German studies department. "Now the city is in the process of rebuilding itself."
One of the primary objectives of Berlin 2000 is to educate American students on the realities of German culture and to help eliminate stereotypes.
"Their idea of the typical German is a beer-drinking, sausage-eating person from Bavaria," said Thomas Modica, a public administration graduate student who spent a year in Germany.
"They neglect the fact that Germany is a world economic power, and they miss the nuances of the culture."
Kovach said the Berlin 2000 events provided a chance for students to go beyond the stereotypes and look at modern Germany.
"The German people do accept responsibility for their past," he said. "You can hardly travel anywhere without seeing efforts to reflect on the past."
The German government is planning to build a monument to the Jews who died in the Holocaust in downtown Berlin, just a block away from the German parliament building.
Since World War II, Germany has outlawed neo-Nazi and racist speech. Copies of Adolf Hitler's autobiography, "Mein Kampf," are only available through correspondence with other countries.
Contrary to the widespread anti-Semites present in Europe prior to World War II, Kovach said while neo-Nazis might be vocal, they are small in number.
"As an American Jew and grandson of a Holocaust survivor, I don't worry about it," Kovach said. "Germany is not in danger of going in that direction."
The Berlin 2000 events also included a screening of "Schwarzfahrer," a short film about race relations in Germany.
"The movie deals with racism and xenophobia in an entertaining manner," said Paul Outlaw, one of the film's stars. Xenophobia is the fear of foreigners.
Outlaw, who lived in Germany for 10 years and travels there twice a year said "Schwarzfahrer" is a "document of its time."
While neo-Nazism has been banned in Germany, Outlaw said the Internet has provided easier access to hate speech.
In spite of these social problems, he said that Americans have much to learn from German culture.
"They are more relaxed with their bodies, and they are more open-minded," Outlaw said. "A lot of the lines in the United States are more muddied there - you can be a punk, a hippie and have dreadlocks all at the same time."