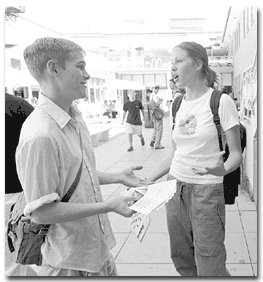 AARON FARNSWORTH
Fine arts junior Nicholas Olsen (left) talks with English junior Breanna Blasberg about the Don't Vote campaign. "It's a shame. No one takes responsibility for being a citizen anymore," Blasberg said when asked about the campaign. The campaign is put on by the League of Non-Voters which will run a "Counter-Campaign 2000" until the presidential elections in November.
By Benjamin Kim
Arizona Daily Wildcat
A world without voting, public representation and government would be perfect, said the organizers of the League of Non-Voters.
Since the League of Non-Voters started in August, three organizers have been posting flyers and handing out pamphlets to encourage students at the UA to stay away from the polls this November, said Robert Peters, a marketing and entreprenuership senior.
During a time when many other organizations are trying to get people, especially college students, to vote, some students are surprised when they hear about the "Don't Vote" campaign.
"At first, some people are even furious, but a lot of people are just curious and want to know more about it," Peters said. "It's just one of these things that is a new idea and is difficult for people to understand."
Their pamphlet, "If voting could change anything, it would be illegal!" states that by voting, a person accepts the government's power over them.
Refusing to vote "is the steadfast, principled rejection of the sham of 'democracy,'" according to the pamphlet.
The league will be running their "Counter-Campaign 2000" until the Nov. 7 elections. Organizers believe that because many people don't vote, politicians are wrong when they believe that they were chosen by a majority of the people. A person is also accepting the will of the majority even if he or she disagrees with the outcome, Peters said.
"It's tyranny in another form," Peters said. "The minority is forced to do things that they otherwise wouldn't want to do."
Organizers believe that no representative could possibly work for all of the interests of different people. When people elect politicians, they are giving them the power to decide on issues affecting their lives, said Kirsten Tynan, an organizer who graduated from UA two years ago.
Sociology senior Dusty Cole said that losing power and sovereignty is a reasonable argument.
"But if everybody had power, there would be potential for chaos," said Cole, who said he believes that some type of order is needed.
"In a perfect world where everybody is happy with everyone else's decisions, it would be great, but it's not like that," he said. "Voting is the best way for democracy to be carried out."
"I think voting is just pointless," Tynan said. "You can vote all you want, the only person fully represented is the one in office."
The League of Non-Voters plans to expand the campaign to the rest of Tucson before the November elections, Peters said.
"To me, voting campaigns are a sham," Peters said. "They don't care whether you've thought about it, they want you to just vote for the sake of voting."
The organization, which has 60 Tucson and UA supporters, plans to have rallies and meetings starting possibly next week, Peters said.
"Politics is all about money and getting money from corporations," said Dewane McBride, an organizer who graduated from the UA with accounting and business degrees. "We're giving into a political process that's entirely corrupt, and we don't have to depend on such a system."
While looking at voter turnout at the national level may make a single vote seem insignificant, votes are very important for local elections - which are sometimes won by a few hundred votes, said Demitri Downing, a UA law school graduate. Downing, who is running for Arizona State representative for District 14, was out on the Mall gathering potential voters to register before the Oct. 9 deadline.
"People need to remember that their votes count a lot in small elections," he said.
"Thinking that as soon as you represent someone to elect you, you're losing your ability to have all of your interests represented - that's an extreme way of looking at things," Downing said. "If you're really interested in having all of your interests represented, you should run for office yourself and express those interests."
Tynan said not voting makes a statement.
"Just because someone doesn't vote, they aren't apathetic," Tynan said. "It's just a different way of showing dissatisfaction of the government."