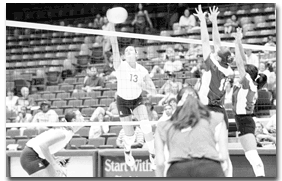 KEVIN KLAUS
UA sophomore outside hitter Lisa Rutledge spikes a ball against Santa Clara on Sept. 9 against Santa Clara. Arizona is trying to set a school record with its 11th-consecutive victory tonight at McKale Center against Stanford.
By Kamy Shaygan
Arizona Daily Wildcat
Arizona seeks to break school record against rival Stanford
This weekend could not only be a record breaking event for the Arizona women's volleyball team, but can also be one of sweet revenge.
The No. 8 Wildcats, who have tied a school record by winning 10 straight matches, will seek to put their name in the program's history books by defeating arch-rival Stanford tonight at the McKale Center. The game starts at 7:30 and will be televised on the Fox Sports Network.
Beating No. 15 Stanford will not be an easy task, however. The Wildcats (10-1 overall, 3-0 Pacific 10 Conference) have not won a match against Stanford since 1993 - losing their last 13 to the Cardinal.
"They brought in one of the top recruiting classes in the country," Arizona head coach David Rubio said. "I think that they are extremely talented and very physical. We are going to have to be on the top of our game to beat them."
Senior middle blocker Marisa DaLee, who has never beaten Stanford (7-4, 2-2) in her time at Arizona, has waited for this match all season.
"I've never beaten Stanford," DaLee said. "The 'S' on their jersey is like Superman. It is going to be a huge game for us."
Surprisingly, the Wildcats refused to speak about the possibility of breaking the school record this week during practices.
"Right now we are not concerned with the record," junior outside hitter Jill Talbot said. "We need to focus on one match at a time and think of it like that. We shouldn't get caught up in things like that. I think that's irrelevant in going out and playing."
Although Rubio never mentions the school record, he did concede that it is on his mind.
"There is a little superstition that goes with it," Rubio said. "You just don't want to talk about those things. You don't want to tempt fate, and that's what we feel we will be doing if we talk about those things."
Although Stanford is ranked nationally and has a very talented team, they are missing their star player - Logan Tom, who is in Sydney, Australia for the 2000 Olympic Games playing for the United States Volleyball Team.
"This year, they are missing a few of their key players," Talbot said. "They haven't been playing at the same level they traditionally do. I just think it will be a good match regardless of who they have on the floor."
Because of Tom's absence, Arizona is confident that it has an advantage over the Cardinal.
"We are more physical than they are," DaLee said.
Regardless of the Wildcats' advantage, Arizona is not underestimating Stanford despite the fact that the Cardinal were swept in Los Angeles last weekend by UCLA and USC.
"I think we're definitely treating them as how they were last year," sophomore outside hitter Lisa Rutledge said. "We are still looking at them as the same team they were last year except with different players on the court."
One of the key elements of the success for the Wildcats will be the play of junior setter Dana Burkholder, who leads the Pac-10 with a 14.13 assist per game average.
"I think she plays a critical role in our success," Rutledge said. "As long as she works hard, we should do fine. She always does that anyway, so our team should be OK."
Along with Burkholder, DaLee will also be a focus of attention for the Cardinal as she leads the conference in hitting percentage (.492). UA will rely heavily on the play of senior outside hitter Allison Napier and sophomore outside hitter Shannon Torregrosa this weekend to take some of the pressure off DaLee.
"It just depends on what the other opponent is keying on," Rubio said. "Because (DaLee) is such a physical factor for us, teams will commit two people on her."
Arizona also needs Rutledge to rebound from some shaky performances as of late to be successful against the Cardinal.
"I'm like struggling with attacking stuff and just kind of a few mental things - probably a little bit of confidence," Rutledge said. "It's way back in my mind."
Along with Stanford, the Wildcats will face California tomorrow at 7 p.m. in the McKale Center.
Although the Golden Bears are not ranked in the top-25, they have a talented team led by senior outside hitter Alicia Perry, who became the only player in Cal history to record back-to-back triple-doubles last season.
"They are much better than they have been in some time," Rubio said. "We have to be prepared for two very good matches. We have to take both matches seriously."