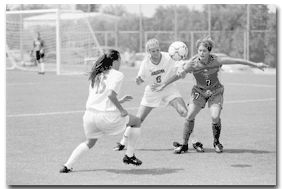 KEVIN KLAUS
Arizona senior defender Ann Giallonardo (15) and junior midfielder Erin Nelson (13) surround a Utah defender at Murphey Stadium on Sept. 10. The Wildcats host the Starwoods Plaza Soccer Classic tonight and tomorrow.
Arizona Daily Wildcat
Airheart, Guinn return to action in Starwoods Plaza Soccer
Despite losing its last two games, the UA soccer team said that it is finally coming together as an offensive unit.
The Wildcat women (1-6-1 overall) will have a chance to show their new-found unity this weekend as they play host to the Starwoods Plaza Wildcat Classic at Murphey Stadium.
"Our results don't necessarily reflect our progress, but there is progress," head coach Cathy Klein said. "The games this past weekend were two of the finest games that we've played in, and we need to continue to build upon that."
With UA junior defender Cassidy Guinn and senior goalkeeper Inger Airheart cleared to play after being sidelined for the past two weeks with injuries, the healthy Wildcats hope to come out strong and participate well in their only home tournament of the season.
The Wildcats kick off the weekend tonight at 7 in a match up with the Long Island University Blackbirds.
This will be the first time Arizona plays Long Island, which is 4-6-0 overall, having won four of its last six matches.
LIU is coming off of a pair of victories against Quinnipiac and Central Connecticut.
Blackbird midfielder Laura Brosious leads LIU in scoring with six goals and three assists.
Arizona hopes to ride the offensive wave junior forward Kristi Lorona provided when she scored three of the Wildcats' four goals during last weekend's matches against Loyola Marymount University and Pepperdine.
Lorona's goals tie her with senior forward Keri Kennedy-Weber for the UA scoring lead.
"(Lorona) is just regaining the form that we saw at the beginning of the season," Klein said. "(Last weekend) has been the first weekend where I've finally seen the real Kristi Lorona."
Lorona and freshman forward Liz Bartlett lead the Wildcats in shots with 14 each.
The tournament will also bring instate rivals Northern Arizona University to Tucson.
The Wildcats will take on the Lumberjacks (3-9-0) on Saturday night at 7 p.m. NAU have lost seven of their last nine games.
Arizona leads the series against NAU, 2-0-0. The Wildcats downed the Lumberjacks 4-1 during last year in Flagstaff.
NAU senior forward Raegin Eyre is the Lumberjacks' top scorer with four goals and two assists. NAU junior forward Holly Jones is second in scoring with four goals and one assist.
Arizona, however, remains focused on its own play, rather than that of its opponents.
"We are our own greatest enemy, we are our best opponent," Klein said. "Once we get to the stage where we control our anxieties and develop a consistent mentality to win, then I'll worry about the opponents."
The team is ready to play too.
"We played wonderful together (last weekend), we're improving with each practice and with each game," Bartlett said.