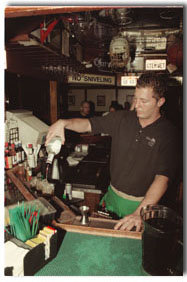 MIKE LARSON
English and media arts senior Adam Thrall flirts with patrons at Dirtbags while he tends bar Thursday night.
Arizona Daily Wildcat
Two days a week, Lindsay Duncan's schedule is crammed with classes.
For the rest of the week, the UA psychology senior splits her time between two jobs to pay for tuition and bills. An internship at a juvenile corrections facility rounds out her bustling schedule.
"I have to work to go to school," Duncan said plainly.
As a retail clerk at Landmark Clothing & Shoes, 876 E. University Blvd, and a cocktail waitress at XS, 536 N. Fourth Ave., Duncan clocks about 40 hours a week. For her it's a necessity.
But beyond that, Duncan recognizes that being active is a fundamental aspect of her lifestyle.
"My parents want me to be independent," she said. "I don't do it just because I need it, I like to keep busy."
Duncan isn't alone as she performs the intricate balancing act between classes and part- or full-time work.
The Research
About 75 percent of University of Arizona students work, according to UA Assessment and Enrollment Research figures.
Rick Kroc, director of the UA Office of Curricular and Enrollment Research, said the percentages, which come from the annuel student experiences questionnaire, have remained fairly constant in the few years the survey has been conducted.
"A little bit of work is a good thing, a lot of work is not," Kroc said. "A lot of work can interfere with studies."
He added that student who work more than 20 hours a week might not graduate on time.
But according to the results of the 1999-2000 survey, 31.9 percent of UA students do work more than 20 hours. Of the 4,219 students surveyed, 24.7 percent don't work; 14.2 percent work 10 hours a week or less; 29.2 percent of students work between 11 and 20 hours; 21.1 percent work between 21 and 30 hours a week; and 10.8 percent work 31 or more hours a week.
John Nametz, director of Student Financial Aid, has been at the UA for 12 years and said the number of students working is going up; so, however, is "just about everything else."
For 1998-1999, 6,750 students worked on campus, Nametz said.
As an on-campus employer himself, Nametz said he doesn't treat students any different from other employees in the financial aid office. In fact, one third of the work force at the financial aid office are students.
"Their hours are critical to us," he said. "There's a big opportunity factor here."
Nametz said there have been some studies that link work to grades, but added that people "can't make the assumption as to whether the work is causal to grades."
"Averages in financial aid are totally meaningless. What matters is 'Can I pay the rent?' Averages don't help that," Nametz said.
But when studies group together similar students, those who work part time on campus can have a GPA that is up to one point higher.
"My anecdotal evidence proves that's right," Nametz said.
Kroc said the research agrees.
"Some of the literature on work suggests it's a good idea for students to work on campus," he said. "It gives them a tighter connection with the campus."
"On-campus employers are sympathetic to midterms and finals," Kroc added. "Off-campus work is awkward. Employers are not always sympathetic in terms of schedules."
But for many students, higher wages at off-campus jobs make the difference.
Higher wages off campus?
Alexis Cohen works at Starbucks Coffee, 802 E. University Blvd., and Frog & Firkin, 874 E. University Blvd.
She has worked at the coffee shop for more than two years, to pay the bills. Her hours at the bar are for extra money because of the good tips.
"This pays much better than work-study," Cohen said.
She added that even part-time work at Starbucks provides her with corporate medical/dental/optical insurance.
"Those are great benefits for somebody so young," Cohen said.
The nursing junior also puts in time as an intern at University Medical Center, and she used to give tours at the UA Museum of Art.
Because she needs to work so much to pay bills, Cohen said her time for classes and homework gets squeezed a bit.
"Professors don't care either way. That's not a problem if quality education is there," she said. "It's a trade off. I could ask for easier work load, but at the sacrifice of quality education."
Nametz said off-campus employers traditionally hire a lot of UA students.
"For off-campus employers, students are great workers," he said. "They are generally more organized with time than any other segment of workers we've got."
"Students are the best labor force in Tucson," he added. "They're smart, committed and want to help. It's their community, and they're working to make it better."
With more development along East University Boulevard, Nametz said there is a better mix of employment opportunity close to campus.
"I see that as positive," Nametz said. "I love to see healthy student/community areas. It's just good for everybody."
Mort Edberg, who has owned Landmark Clothing & Shoes for 40 years, said he employs students because "they can relate to their peers." He added that it builds a strong relationship between students and the community.
Nametz said the campus area is a "safe, exciting, interesting place to be."
"The hospitality industry is heavily subsidizing students here. Our students are really sought after," he added.
For Casey Musselman, a molecular and cellular biology junior, working as a manager at No Anchovies, 870 E. University Blvd., pays the bills.
"You just learn to manage your time," said Musselman, who works between 25 and 30 hours a week. "My parents say they did it themselves, so..."
"A lot of people have a good amount of cash flow," he said. "But I'm working my ass off and still not getting anything out of it."
Musselman said his wages supplement financial aid.
"I had to up my hours here to cover what I don't get from financial aid and to avoid some of the loans," he said.
Nametz said loan amounts are decreasing at the UA.
"It's possible for any student to reduce the amount of loan, but students may be feeling they're forced to work to avoid loans," he said.
One example is John Neptune, who works about 30 to 35 hours a week between two jobs, for "survival."
Working as a clerk at Zip's Music and Video, 946 E. University Blvd., suits the music education senior well, but Neptune supplements that with his other job at a bicycle store.
"I'm spoiled," he said. "I like sleeping indoors and eating when I'm hungry."
The benefits
Nametz said there are some who choose Pima Community College over the UA because they need to work to go to school.
"As costs become more critical in the decision making process for students, a lower cost school will seem more attractive," he said.
The difference between in-state tuition at the UA and that at Pima is about $1,500.
"A lot of students' families are eligible for tuition tax credits. That's a big if, but it almost equalizes the tuition difference."
Jeff Weinstock, a communication major, is one of those who opted for Pima because of work.
The Chicago native works at Cokes N Smokes, 998 E. University Blvd., and Caribbean Squeezers, 845 E. University Blvd. and is going to Pima while he gets Arizona residency.
"It's fun, I get to talk to people as they pass by," he said about his post at the corner of University and North Park Avenue. "And it pays."
Weinstock plans to transfer to the UA in the spring, and is saving for a trip to Cancun during spring break.
"I don't have to work, but it definitely helps out my situation with my mom. Parents nowadays want kids to work and not to live off them. Working shows some initiative," he said. "My parents have no problem paying for school, but for spring break or a weekend in Las Vegas, it's nice to have your own money."
From a research perspective, Kroc said an interesting question is needing to work versus wanting to work.
"Clearly a lot of students need to work, but many work partly to gain discretionary income," he said. "Wanting to do things on the weekends is part of being in college."
Tristan Farrell's 10 to 12 hours a week at Landmark Clothing & Shoes aren't because he needs the money for school. Instead, he works for spending money.
"I'm just doing it because I want to live kind of well and not be stingy," he said.
Nametz said working through school offers students more of a real life experience.
"There are a lot of different ways to do it - I don't want to say it (working part time) is the best way, because everybody's different."
Lauren Greer, a costume design senior, said she basically works to go to school.
"For most people, it's a matter of earning your way through life," she said.
"It's no secret that it's very challenging," she added. "I'm debating whether or not I can balance it. It's difficult, you're always tired and you have no life."
Working at Urban Outfitters, 901 E. University Blvd., saves her time, Greer said, because of the proximity to campus. She added the store has an interesting atmosphere.
"I see girls my age spending hundreds of dollars on clothes," she said. "I get a discount, but it's not like I can afford clothes anyway."
Kroc said working through school presents a lot of trade-offs, but it all comes down to the individual student.
"What is college all about?" Kroc asked.
"It's fine with me if they all work," he said. "It's probably good for everybody, but there is a limit. It's a complicated issue. I'm not so sure students need to be working all the hours."
Nametz said that on the whole, working can be very positive for students.
"Working is a tremendous, beneficial experience," he said. "For most of us, it probably centers us. We're all wondering on what the best mix is, and that depends on the person."