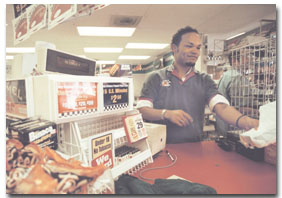 AARON FARNSWORTH
Psychology senior Jonothon Knox rings up a customer Friday at the Cherry & 6th Street Circle K. Knox maintains a 40 hour week graveyard shift and plans to attend Columbia University next semester.
Arizona Daily Wildcat
From tending bar to telling jokes, students seek income from variety of jobs
Whether they have to pay the rent, support a family or simply extra shopping cash, about 75 percent of UA students work according to unniversity static. With jobs ranging from minimum-wage food service work to technical office duties, University of Arizona students are employed in a variety of industries. Here is just a sampling of the jobs students hold to keep their wallets filled.
Adam Thrall, Dirtbag's bartender
Adam Thrall, a UA media arts and English senior, spends much of his week at Dirtbag's, 1800 E. Speedway Blvd. - only he is on the employee side of the bar.
Thrall has been employed at the campus-area tavern and restaurant for four years, working his way up from doorman to manager. However, most of his duties involve tending the bar.
Thrall works full-time at Dirtbag's to support himself, since his part-time student status prevents him from receiving federal financial aid.
However, Thrall said he is not scraping together a living.
"I do make enough money to support myself and have fun so I'm doing OK," he said.
Thrall said he strikes a careful balance between work and school, even if it means bringing his books into work with him.
"I try to do some homework at work during downtime. I read a little bit, because I'm an English major," he said.
The clientele of Dirtbag's is varied, Thrall said, but he described it as always friendly.
"I've seen the rich and seen the poor and seen the extremes of those," he said. "It's usually college kids, but there are other people that come in for lunch."
A typical night for Thrall begins at 5:30, with a steady dinner crowd until about 7. The establishment is quiet until about 10, then remains busy until he heads home at 2 a.m.
As a manager though, Thrall said he is always on call.
The usual image of a bartender being a ready ear for customers holds true for Thrall as well.
"When I'm bartending, what better time to start a conversation," he said, adding that he has to keep working while chatting.
Of the many drinks he makes each night, Thrall named the Stoli Vanilla Mindracer and Viagra as his favorites.
The Stoli Vanilla Mind Eraser combines coffee liqueur, Stoley brand vodka, and soda water. The Viagra, a newer drink, mixes Red Bull and Jaegermeister liqueur.
After leaving the University of Arizona, Thrall said he wants to go into a screenwriting or documentary writing career, but will keep tending bar if he has to.
Thrall's years at Dirtbag's have not only made him a proficient bartender, but he says they have also matured him as a person.
Just as the sign outside of Dirtbag's stating "...part of growing up" claims, Thrall said his co-workers and the family-like atmosphere they create has helped him mature throughout his tenure at the popular eatery.
"They took me in when I was 19 - I had never been in a bar before," he said. "They treated me like a little brother."
Brian Mollica, stand-up comic
To hear him tell it, Brian Mollica is a shy, low-key person who sits quietly in the back of class - hardly a class clown.
But five nights a week, Mollica, a UA communication senior, opens up to a roomful of strangers when he takes the stage at Laffs Comedy Caffe' 2900 E. Broadway Blvd.
Mollica has been performing professionally for about a year, after a life-long fascination with the craft.
"When I was a kid I used to love to watch Norm McDonald, who I thought was absolutely brilliant," he said. "The people that I could see a lot really shaped me - Chris Rock, Dana Carvey, people like that."
When Mollica turned 18, he started going to comedy clubs and closely studying the performers.
Now 22, Mollica is an opener at Laffs, warming up the crowd with 15-minute routines about seven times a week.
When he is not performing, Mollica also waits tables at Laffs, the only comedy club in Tucson.
"I think the main thing that attracts me to it is I'm not selling anything," he said. "People are paying to hear my thoughts, my words."
A self-described high-energy, "inflectionist" comic, Mollica gets his laughs by exaggerating punchlines and emphasizing his words.
"I tell stories, I tell quick jokes. I wouldn't say I'm your average comic. I don't do observations - 'ever notice that...' - and I'm not particularly dirty," he said.
Mollica said he has encountered his fair share of hecklers, who he said are usually jealous of the performer.
One intoxicated man decided to get into Mollica's act and joined him onstage, but he could not handle the audience's barrage.
"I think he was trying to heckle, but he had one too many, and it came out as a mash of jumbled vowels," Mollica said. "The whole crowd was roaring and telling him to shut up."
"If you handle it with some poise up there, you can pretty much get out of any sticky situation," he added. "Unless it seems absolutely necessary, I let most things go."
Mollica said he would like to create a career out of stand-up comedy, although he admits it is difficult to achieve fame solely through stand-up.
Still, Mollica contends he is happiest when he is making other people laugh.
"Really, it doesn't pay real well," he said. "It's strange - I can't imagine doing anything else. I look forward to it. I just enjoy that immediacy, that being onstage, that instant reaction with the crowd."
Mollica said being a successful comedian involves more than just having a sense of humor - as a comic, Mollica has to make his audience relate to him to find his routine amusing.
"It's not really being funny - it's hard to make 300 people who are looking at you, and waiting, laugh," he said. "They don't know you, they don't care about you. You have to earn their laughter, in a way."
Evan Thompson, referee
In his black and white-striped jersey with a whistle around his neck, history junior Evan Thompson stands out amidst the action of the intramural flag football game.
As a referee for the UA Department of Campus Recreation, Thompson officiates intramural sports games, including flag football, soccer, basketball and softball, about six times a week.
Thompson, who has been a sports official since high school, said that even though he enjoys his job, he is not often the most liked person on the playing field.
"It's not a very popular job, obviously," he said. "Who would want to go out there for two hours and be the most hated person in their (players') world?"
Thompson said his favorite sport to officiate is baseball, although other sports have their own qualities.
"What's fun about football is when a penalty happens you can throw something - you can throw the flag," he said. "As far as basketball goes, that's the most difficult one. The game is so fast-paced, (in) such an intimate area."
When Thompson attends sporting events, he says he is more understanding of the officials' situation than most other spectators - giving a referee or umpire more credit is something not too many people do, Thompson said, also citing that aspect as one of the more aggravating facets of his work.
"What really gets me are players who think they know everything, or think they know more, or think I'm stupid. I see more than they think," he said.
Some amateur athletes also tend to think they are more gifted than they really are, Thompson added.
"They all think they're Michael Jordan, but they act like Michael Jackson," he joked.
Thompson said when players disagree with his calls, it is important to remain calm, no matter how vehement the players may be.
"There's players who, when they argue, their eyes get this big and start screaming in a high-pitched voice because they're so excited about what they're doing," Thompson said, cupping his hands as if he were holding a dinner plate.
After graduating, Thompson said he wants to be a high school social studies teacher and continue with athletics as a coach - although he admitted that he may not be a stellar athlete himself, Thompson studies the rules of sports carefully, allowing him to still be a part of the game.
"I love doing it just because I'm out there involved in the game, I'm with the players, I'm in the game," he said. "I need to work so I might as well have fun working."
Jonothon Knox, Circle K cashier
A full tank of gas, cheap coffee and a quick snack are not the only things one can leave with after visiting the nearby Circle K convenience store.
UA psychology senior Jonothon Knox, who has been a cashier at the store at 1610 E. 6th St. since July, brings his energy and emphasis on customer service to his job.
"With good customer service and a friendly face, it's not all that bad," he said.
Knox, a cheerful man with a quick smile, said every customer is treated warmly - even the Circle K regular who often visits the store in a bad mood does not affect Knox's positive attitude.
"I treat her with respect and I don't treat her the same way she treats me," he said. "Customer service is my big thing and no matter how mean she is to me I'm always nice to her."
Although he now works afternoons and evenings at the store, Knox filled in for the graveyard shift for part of the summer, ringing up purchases into the wee hours of the morning.
"The graveyard shift was something I wanted to do for awhile because I had nothing to do on Friday nights," said Knox, who added that the store's proximity to the University of Arizona campus keeps him feeling safe late at night. "I guess with it being on campus you don't have to worry about robberies or anything."
Knox said he also enjoys his job because the store is frequented by fellow UA students, who he chats with as they pass through the store.
"I try to keep people happy, and if they're in a bad mood I try to being a smile to their face," he said.
In addition to the effort he puts forth at work, Knox has also made his mark at the UA as a near-perfect student. Even though he works behind the counter at Circle K full-time, he also carries a full course load and said he always makes time to study, even during breaks at work.
After earning nearly all A's in his undergraduate career, Knox is headed to Columbia University in New York City next fall to pursue a master's degree in psychology.
"My mom has always told me to do my best, so that's what I've done," he said.