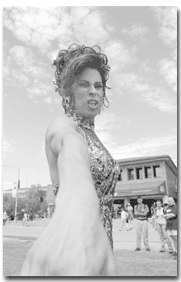 AARON FARNSWORTH
Drag queen Ajia Simone performs a rendition of "I Will Survive" on the UA Mall yesterday. The drag show was put on to garner interest in National Coming Out Day which is next Wednesday.
Arizona Daily Wildcat
Drag queens perform dance routines to different tunes
Five drag queens danced with the crowd and lip-synched to a variety of songs at a performance sponsored by the UA Pride Alliance to begin a week of events devoted to gay awareness.
Although National Coming Out Day is not until Oct. 11, about 400 people gathered on the University of Arizona Mall yesterday to enjoy the show.
"Undoubtedly, this is a great way to capture attention," said Jacob Rigoli, event organizer.
The Tucson-area performers each did two routines during the hour-long show while members from Pride Alliance, a campus gay and lesbian organization, spoke out about the purpose of National Coming Out Day.
"We're here to promote diversity and awareness," said Rigoli, who is also a UA management and information systems senior. "We've done this for about five years in a row."
Performers from the show said the event helped lighten the mood of National Coming Out Day.
"We can have fun no matter where we are, not just in bars or at a pride picnic but just on the UA Mall," said performer Janee Starr, who has been dancing in drag shows for three years.
"This is important for those outside the GLBT (gay, lesbian, bisexual, transgendered) community because it proves that no matter who you are, anybody can have a good time," Starr said.
Students who attended past drag performances said this year's crowd was much larger and more diverse.
"Last year there were only half as many people here, so this is awesome," sad Maria Golembiewski, a history senior. "It makes people more aware that there are more lifestyles than what they live."
Others agreed that the larger number of students meant greater recognition for the gay community.
"The more stuff like this that's done makes it more accepted," said Jason Grimm, a management and information systems senior.
"Some of these guys are really feminine, it's kinda nice to watch," he said.
Pride Alliance sponsored the event and paid for the UA Mall access fees and the sound system, Rigoli said. The performers appeared for free, and Rigoli estimated the costs at a few hundred dollars.
"It's too easy to ignore this very large portion of students who do identify as gay, lesbian, bisexual or transgendered," he said. "Every once in a while we need to show that a community exists here."
Besides yesterday's drag show, Pride Alliance is hosting an entire week of events in honor of National Coming Out Day. These include an informational booth on the UA Mall, a poetry slam and a miniature golf tournament.
"This is a big, visible kick-off point and a very visible part of our culture," said Kirra Seely, engineering senior. "For students not in the Pride Alliance, it (drag show) gives them a chance to participate in a way they might not have had before."