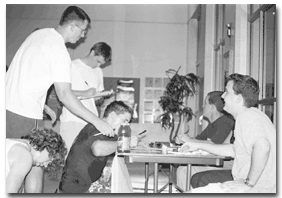 HEATHER CHAMBERS
ASUA President Ben Graff, right, helps students register last night, by giving away free Gatorade, at a booth set up at the recreation center. ASUA and the University of Arizona's Arizona Student Association is competing with ASU and NAU to gain the greatest number of registrations. The university that loses has to wear T-shirts of the winning university.
Arizona Daily Wildcat
Arizona universities competing to register 5,000 students
More than 100 sweaty and worn-out students who walked through the lobby of the UA Student Recreation Center last night were relieved with a bottle of Gatorade when they registered to vote for the Nov. 7 election.
The University of Arizona's Associated Students and Arizona Student Association have challenged themselves to register the largest number of students to win a contest among Arizona's three state universities.
The student body leaders at the UA, Northern Arizona University and Arizona State University are hoping to collectively register 5,000 students to vote. So far, more than 1,500 UA students have registered during the effort.
ASA Task Force director Sam Chang said ASUA and ASA have registered students at different campus locations since the first day of school and will continue to do so until Monday.
"The (UA) Mall is being used by (other clubs) so we wanted to target specific areas on campus," said Kelly Dalton, ASA director.
Dalton said that Chang has been successful in coming up with creative ways to encourage student registration, such as giving out free Gatorade at the Student Recreation Center each night this week, passing out free eegee's at the residence halls during the day, and giving out bagels to Arizona-Sonora residents at 7:30 a.m. last week.
"We are also offering a $200 prize, donated by DM Federal Credit Union, to the club who brings in the most registrations," said Chang.
Chang said that while the students fill out their registration forms, he also talks to them about the different issues the election covers, including the importance of Prop. 301.
If passed, Prop. 301 will increase Arizona's sales tax to 5.6 percent and raise about $440 million annually for the public education budget. It could bring in about $20 million to the UA.
"We are trying to be non-biased in telling them who to vote for, but I am really encouraging them to vote yes on Prop. 301," Chang said.
Dalton said they can legally say that they support the proposition because ASA is a non-profit organization.
Both Chang and Dalton said they are really happy with the number of students who have registered, and hope they will vote on Nov. 7.
"I think it's really important to vote and that we have a say in making decisions," said finance senior Jordan Shulman, who picked up a free Gatorade last night after registering.
However, his friend Zane Staggs disagreed and said he has no intention of voting in the upcoming election and only registered for the free Gatorade.
"Neither candidate looks like they should be president, it's all about the money and power they each have," said Staggs, a management information systems senior.
Dalton said she has been involved with voter registration since her freshman year and because of this year's presidential election, she has seen more students register than ever before.
ASUA President Ben Graff said that many out-of-state students think they cannot register through ASUA and ASA because they are not Pima County residents.
"They can, and should, register with us because they attend school here, they live here, and the election affects them," Graff said.
Another misconception students have is they think that if they registered last year, then they do not need to again, Chang said.
"If their address has changed, even if they live in the same dorm but a new room, they still need to fill out a new registration form," Chang said.
To help students cast their vote, ASA will be renting vans to shuttle students from campus to nearby voting polls on Nov. 7.