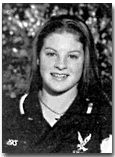 MIKE LARSON
UA freshman forward Liz Bartlett scrambles for a ball against Long Island at Murphey Stadium. Bartlett leads Arizona in shots and is tied for the scoring lead with three goals.
Arizona Daily Wildcat
Freshman scored twice in weekend tourney
It didn't take long for freshman forward Liz Bartlett to make an impact on the UA soccer team.
With only 10 games under her belt, the 18-year-old has evolved into one of the leaders of the Arizona soccer team.
Bartlett leads the team in shots with 26, and she's tied for second in scoring (six goals) along with senior forward Keri Kennedy-Weber.
She racked up 12 shots this weekend alone and scored two of the Wildcats' three goals - including the game winner against Long Island University - to help Arizona to take the Starwoods Plaza Soccer Classic.
For Bartlett, the hardest part of being a starter was stepping up to the role of being counted on continually to score.
"I knew it was going to be challenging, and I knew it was going to be hard," Bartlett said. "What makes it easier as a freshman is that we have such a great representation from the upperclassmen."
Helping the transition from high school soccer to Division I competition has been Bartlett's ability to pick up Arizona's style of play quickly.
"I expected great things from all of our freshmen, I think Liz is just really becoming fit," UA head coach Cathy Klein said. "Her learning curve is exceptional - she's learning very, very quickly."
The Dove Canyon, Calif. native wasn't always in the offensive spotlight. She was recruited as a defender but expressed to Klein in the summer that she wanted to play the forward position.
"I love being up in the offense, and I love being able to trick the defenders and put your team's name up on the board," Bartlett said.
After starting the season in the backfield, Klein inserted Bartlett up front in order to create a spark offensively for the Wildcats.
"When we started to struggle for goals, I put her up there, and then she really caught fire this last weekend," Klein said.
One of the keys to Bartlett's early success has been her versatility.
"When we go into a Pac-10 competitive game, she might just as easily be in the back," Klein said. "She's our legitimate defender, midfielder, forward."
Junior forward Kristi Lorona is pleased to see someone so new to the program step up and compete on a Division I level.
"She's just as strong and fast as some seniors that she's up against," Lorona said. "Every year we get new incoming freshmen, and I always hope that there'll be some freshman stud - she's definitely the one this year."
Whatever her role is on the team, Bartlett said she is just starting coming into her own as a player.
"It's wonderful that you can come out and do something you love everyday and experience it with such wonderful people," Bartlett said.
Bartlett is quick to give credit to Klein for her improvement this season. Upon meeting Klein for the first time, the freshman knew that she wanted the former Iowa State coach as her mentor.
"It's not necessarily the greatest skill out on the field or the most experienced. It's heart, effort, dedication and the warrior mentality all rolled up into one," Bartlett said. "Klein molds that and helps that evolve into what she wants it to be."
Finding the warrior mentality - a key philosophy to Klein - has been the result of hard work and dedication on Bartlett's part.
"You have to want to be an elite-level athlete, and I certainly train them to be one, but I can't force them to be passionate, it has to come from within," Klein said.