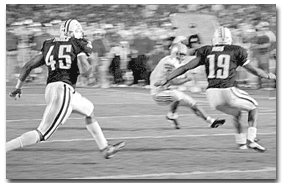 AARON FARNSWORTH
UA senior linebacker Antonio Pierce (45) and junior strong safety Brandon Nash (19) surround Ohio State wide receiver Ken-Yon Rambo at Arizona Stadium on Sept. 9. Pierce is one of numerous Wildcats who will be playing in front of friends and family when UA travels to Los Angeles, Saturday, to play USC.
By Ryan Finley
Arizona Daily Wildcat
SoCal natives anxious to return home
Senior linebacker Antonio Pierce is finally going home.
Barring a visit to the Rose Bowl, Saturday afternoon's game versus Southern California at the Los Angeles Memorial Coliseum will be the Ontario, Calif. native's only chance to visit his family during the football season.
"I haven't been back home since April," he said. "To go back home and play a game at the Coliseum will be a great honor for me."
Pierce is just one of numerous Arizona players who will be returning home this weekend when the Wildcats face the Trojans.
In fact, eight Wildcat starters - tight end Brandon Manumaleuna, quarterback Ortege Jenkins, running back Larry Croom, defensive end Anthony Thomas, Pierce, safety Brandon Nash, kickoff specialist Chris Gray and punter Chris Palic - hail from the Los Angeles area.
For Pierce, who prepped at Paramount High School and played junior college football at Mount San Antonio College in Walnut, Calif., the homecoming will be an opportunity to show his talent against USC, a team that passed on the inside linebacker out of high school.
"In (junior college) I went to a USC-Florida State game," he said. "I remember having the feeling that, 'I want to play here.' That's why I chose to come here to the Pac-10. To play in those kinds of stadiums - to feel those legends in my bodies."
The Memorial Coliseum, which holds nearly 92,000 people, has been the home field of four Heisman Award winners - Mike Garrett, O.J. Simpson, Charles White and Marcus Allen - and 121 All-Americans.
"It's a great place to play," UA head coach Dick Tomey said. "A lot of our guys have been there or been to games there."
Although he respects USC's tradition, Pierce is excited to play against the Trojans as a Wildcat.
"I really never grew up wanting to be a Trojan - I just love college football," he said.
Junior defensive end Alex Luna, who earned all-area honors from the Los Angeles Times while at San Fernando High School in San Fernando, Calif., is ready for the challenge that Southern California presents.
"We've got to give them all the respect," Luna said. "(USC's) Carson Palmer is a very good quarterback. He's got a lot of weapons. We've got to keep the pressure on them."
UA head coach Dick Tomey said that although Los Angeles trips are some of the most anticipated excursions of the season, players need to avoid getting too emotional playing in front of their friends and family.
"Our guys love playing in LA," Tomey said. "(Sometimes) guys are too excited, too wired. They want to play too well at home. We just need to understand that this is a football game between Arizona and USC and play the best we can and not get too excited about all the other things going on."
Try telling that to Pierce.
"I always wanted to come back and play at the Rose Bowl and the Coliseum," he said. "My biggest concern is stopping USC."