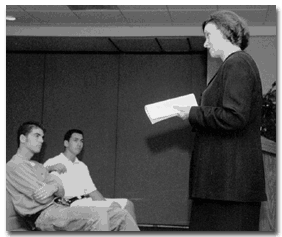 KEVIN KLAUS
Arizona Secretary of State Betsey Bayless talks to students yesterday in the Rincon Room of the Memorial Student Union about the need for registering people to vote. Bayless feels that it is more difficult in the United States for the everyday person to register and vote than in other countries.
Arizona Daily Wildcat
About 60 percent of eligible voters are registered in Pima
While it is important for all citizens to vote, Betsy Bayless, Arizona Secretary of State, said she is working to register the youth and minority vote.
Eighteen to 24-year-olds, Hispanics, and American Indians are the demographics being targeted to register to vote, Bayless said.
Only 24 percent of registered voters turned out for the primary elections, Bayless told an audience of about 15 in the Memorial Student Union's Rincon room.
About 60 percent of eligible voters are reigistered for the election, Bayless said.
"Your vote is your voice," she said. "When you don't vote you give authority to me."
But Bayless said she acknowledges that it is difficult to register the youth vote.
"It's not easy to turn the ship around," Bayless said.
While the 18 to 24-year-old age group cares about government and politics, they don't participate in elections, she added.
She has participated in the organization of TV advertisements and radio spots targeting people in those demographics that have a greater tendency to not vote, Bayless said.
Bayless has also been holding town hall meetings across the state to encourage registration.
Bayless said "by caring and expressing your opinion," audience members can enourage 18 to 24-year-olds to vote.
One UA student was still unclear as to why young people don't vote.
"I think that she really helped define the problem," said Kelly Ward, political science junior.
However, Ward added, "we need an answer why people of that age group don't feel like politics is the solution to issues and problems they care about."
TV and radio advertisements are not enough, Ward said.
Another alternative for participating in the election is voting by mail. About 35 to 45 percent of people vote by absentee ballot, Bayless said.
By creating more options, possibly including internet voting, Bayless said, it may encourage higher numbers of voter turnout.
"Most of our work now is done over the Internet," she said.
However, Pima County doesn't have an approved online election ballot. Two requirements have to be met before it gains approval - a secret ballot and security over the Internet for voters.
"We need to get the public a little more comfortable with this issue," she said.