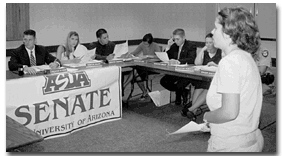 MATT CAPOWSKI
ASUA senators read over a Students Against Death Penalty information packet presented by German studies and linguistics senior Jane Williams, the club's president, last night. Members of SAD believe that the death penalty is applied in a racist manner and reserved for the poor.
Arizona Daily Wildcat
Young Greens, Sigma Alpha Iota, Amnesty International, Bobcats Senior Honorary get
Associated Students senators approved several budgets and contracts at the ASUA Senate meeting last night, including more than $7,668.09 for four campus clubs.
The Associated Students of the University of Arizona approved the Appropriations Board consent agenda to give the Young Greens their initial funding of $118.64, $150 to a music club, Sigma Alpha Iota, to help fund their monthly musical concerts, and $400 to Amnesty International to send five club members to a conference.
The Senate also approved a funding of $6,999.45 to the UA Bobcats Senior Honorary to help them pay for Homecoming festivities, which will cost more than $20,000.
In other business, sociology junior Kate Schroll, Women's Resource Center co-director, asked the Senate to approve two proposals - one for a self-defense class and the other for a sex workshop.
Schroll said that the self-defense classes have been successful for the past three semesters, and would like to hold between seven and ten of them this semester in the residence halls.
"It's a class taught by women, for women," Schroll said.
Tonight's first-ever sex workshop, in Louie's Lower Level at six, will be taught by Merryl Sloane, a speaker who calls herself an "evangelist for great sex."
"We have only set one date for the workshop so far because we have never done it before, so we wanted a positive response from the community before we schedule more," Schroll said.
The proposals would be paid for through the WRC budget, Sen. Matt Bailey said.
The Senate passed both proposals unanimously.
A Students Against the Death Penalty presentation was made by the club's president, Jane Williams, a German studies and linguistics senior.
The members of SAD will be participating in Moratorium 2000, a nation-wide project to get one million signatures for a death penalty petition.
"It's not a Democratic or Republican issue, it's a human rights issue," Williams said.
Sen. Roby Schapira told Williams that although he is personally in support of the club's concept, the Senate as a whole would not be able to support it because it does not voice the opinions of the entire student body.
"It's too controversial for us to support," Schapira said.
However, ASUA Vice President Erick Negri reminded Williams that she should speak directly with one of the senators if she wished for the Senate to pass a motion.
Political science junior Jonna Lopez, a Pride Alliance volunteer coordinator, presented a proposal of $6,000 to contract three speakers.
Schapira told Lopez that the Senate could not yet approve the $6,000 because the contract did not include details of the events.
The other senators agreed and approved the motion to approve just the contract for the speakers.