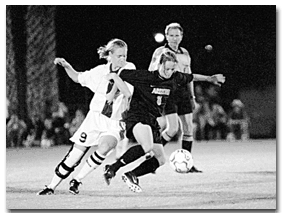 MIKE LARSON
UA junior midfielder Twila Kaufman fights off a Northern Arizona defender at Murphey Stadium last Saturday. Arizona travels to Oregon tomorrow to play Oregon State and Oregon this weekend.
By Chris Martin
Arizona Daily Wildcat
Wildcats hoping to extend 2 game win streak
The Pacific 10 Conference season is starting at the right moment for the UA soccer team.
After winning the Starwoods Plaza Soccer Classic last weekend by defeating Long Island and Northern Arizona, the Wildcats enter conference play with their first win streak of the season.
"We are pretty much on our biggest high right now because we are seeing a lot more improvement on the field," senior goalkeeper Inger Airheart said. "We are getting more mature with our play and you definitely need those two things on the field when you are going into the Pac-10."
With Arizona (3-6-1 overall) finally hitting its stride, the young team should present many problems to both Oregon and Oregon State when they travel to the Pacific Northwest.
Both Oregon schools have struggled lately and may give UA a good opportunity to start Pac-10 play undefeated after the first weekend of conference play for the first time in program history.
The Beavers (6-6) tomorrow night will host UA in Corvallis, Ore., having lost five of its past seven matches.
"I feel very optimistic about this weekend," junior midfielder Twila Kaufman said. "This is a good test because we are entering the Pac-10 but we are expecting games similar to what we have been exposed to so far."
Sophomore forward Dante Lipfert leads Oregon State in scoring with five goals (10 points) and senior Jerika Duran will guard the net for the Beavers.
Duran has played in 10 games this season and has a 1.12 goals-against average, recording one shutout.
The Wildcats and Beavers have an interesting recent history.
Last season, Arizona ended a 20-game conference losing streak against the Beavers in a 4-1 victory. In the game, junior forward Kristi Lorona recorded her first career hat trick en route to the victory.
"I am not expecting to pull any hat tricks out," Lorona said. "I know their defense is nothing I can't handle if I play to my top."
Saturday, UA will travel to Eugene, Ore., seeking their first-ever victory against the Ducks. Last season Arizona and Oregon tied 0-0 at Murphey Stadium to end both teams' season.
UO (3-8-0) has struggled mightily this season, losing eight of its last nine matches.
The Ducks have counted on a pair of juniors - forward Crystal David and midfielder Chalise Baysa - for the majority of their scoring.
David leads the team with eight points (three goals and two assists) while Baysa has tallied three goals and one assist for seven points.
"It is always a battle between Oregon and us," Airheart said. "I guarantee that we can beat them with heart and with skill."
Arizona will continue to rely on the play of forwards Lorona and freshman Liz Bartlett. Combined, the two hold 50 percent of UA's goals this season.
Bartlett and Lorona accounted for all three of the Wildcats goals at the Starwoods Plaza Soccer Classic.
"Kristi and Liz have done a real good job as of late," UA head coach Cathy Klein said. "I am really happy with the way we are spreading the wealth. I really feel we are getting the most out of everybody right now."
Defending the goal for Arizona will be the duo of junior Shannon Monti and Airheart.
"I think they give us a nice balance, I like the feel," Klein said. "Inger is composed, Shannon is so athletic and fit and great with her feet."
Monti has been the No. 1 goalkeeper all season, with Airheart playing late in games where her experience and leadership have been vital in late game situations.
Monti leads the team in saves (41) and goals-against average (2.50), but both goalkeepers combined to blank Northern Arizona on Saturday for Arizona's only shutout of the season.