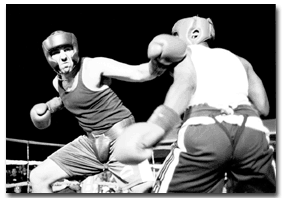 file photo
Two students box at last year's University Fight Night in the Maloney's On Fourth parking lot. University Fight Night will be take place tomorrow night at 7.
Arizona Daily Wildcat
There are going to be a lot of fights tomorrow night in the parking lot of Maloney's on North Fourth Avenue.
There will be no police to break up these fights, no bouncers dragging drunken students off each other.
And there will be thousands of rowdy fans cheering them on.
This isn't your ordinary bar fight - this is University Fight Night.
There will be at least 15 bouts tomorrow night at the fifth-annual University Fight Night, an amateur boxing event involving both Arizona and Arizona State boxers.
The event begins at 7 p.m. outside of Maloney's On Fourth, 213 N. Fourth Ave.
Fight Night has been a success in past years, and event promoter Larry Lentz thinks this year's show will follow suit.
"It's the most exciting sports event in Arizona - in all of Arizona," Lentz said. "It blows away football, it blows away basketball games. I guarantee their money back if they're not having a good time by the third fight. You don't get that at a football game, you don't get that at a basketball game."
Maloney's manager Todd Sands is also expecting a large turnout tomorrow night.
"Anywhere from 2500 to 3000 (people)" should attend the fight, according to Sands.
"We're looking for our best turnout yet." he said.
Despite the unruly nature of boxing, University Fight Night will have certain rules.
Each boxer will face an opponent for three one-minute rounds. The fighters will get just one minute of rest between each round, which Lentz thinks will add to the excitement of the fight.
"They just go at it, they just start throwing punches, they don't have time to feel them out" said Lentz. "They don't mess around - they just fight."
The fight will be a non-profit event - Lentz will use the money generated to allow Arizona boxers to travel to boxing competitions nationwide.
"(The money will be) used for local and maybe college kids that need to travel to a fight that don't have the money," he said.
Lentz said that every fight should be competitive as all boxers have endured serious training programs prior to the fights.
"They're all gonna be great solid fights," he said. "The boxers have trained more for this one than any other fight."
Tickets may be purchased at Maloney's, TicketMaster, or at the door. Ticket prices are $15 for all-access tickets.
Patio seating will be provided for those who wish to watch the fights and dine during "Fight Night."