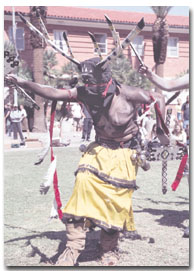 AARON FARNSWORTH
An Alchesay High School Apache Crown dancer performs on the UA Mall yesterday during the opening ceremonies of Native American Cultural Celebration Week. The event included a reading and presentation of a proclamation by UA president Peter Likins.
By Ayse Guner
Arizona Daily Wildcat
Performances out on UA Mall commemorate diversity
The Native American Cultural Celebration Week officially began yesterday on the UA Mall with Apache crown dancers, frybread and faculty speeches.
The opening of the celebration began with a proclamation from University of Arizona President Peter Likins honoring the cultures, traditions and heritages of American Indian students, faculty and staff members.
Likins said that not only this week, but in every event on the campus, the American Indian leaders are invited to connect with students and highlight the cultural connections.
"We celebrate not just this week, although it is special, we try every way we can to make that connection," he said.
One example was the presentation by Tony Redhouse, a Navajo dance performer, who gave a blessing during Friday's Campaign Arizona gala.
After Likins presented the proclamation to American Indian Nations Ambassador Mary Jo Tippeconnic Fox, the celebrations followed with a prayer by Sherrie Stanley, UA Miss Native American.
Stanley, a civil engineering senior, said that in American Indian culture every celebration or event begins with a prayer. She added that holding a cultural event at the campus contributes to diversity.
"I am really proud to have people come and share their culture, that's where our strengths come from," Stanley said.
The celebration is also intended to educate the UA community on the cultural aspects of American Indians.
"Sometimes, the general population doesn't know about the Native American culture," Fox, an American Indian studies associate social scientist, said. "The more we learn about the different cultures, the better it will help us to get along as far as understanding and relating with each other."
"That's part of the educational mission of the UA," Fox added.
Karen Francis-Begay, UA language, reading and culture program coordinator, said the cultural celebrations of American Indians have been developing over the last 10 years. Before, the cultural events were celebrated occasionally, but now they have developed into week-long celebrations.
"Campus community has many opportunities to honor and recognize the cultural diversity," she said. "The important message is, however, it's good to have a time and place for this type of celebration."
Alchesay High School dancers from Whiteriver came to perform a blessing dance to present the American Indian traditions. Indian frybread was also available on the UA Mall.
Felicia Tagaban, an English senior who was one of the students cooking frybread, said the celebrations give an opportunity to taste a cultural food that "we're pretty much accustomed to."