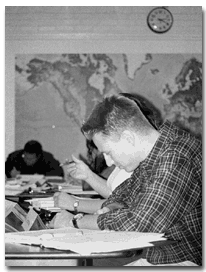 HEATHER CHAMBERS
Graduate student and aspiring secondary education teacher Phil Stevenson studies how to make a lesson plan Thursday at a Flowing Wells school. Stevenson and other members of the class are working toward a master's degree and teacher certification in Arizona under a year-long internship program.
Arizona Daily Wildcat
Low salaries across the state contribute to problem
With Tucson public schools suffering teacher shortages, the UA has launched a new program to fill the need for quality educators.
Teach for Tucson, a one-year program that awards students both a master's degree and teaching certificate, began in June with a group of 20 students.
The concept of the University of Arizona's College of Education's new program is to provide public schools with fast solutions and capable teachers.
Applicants to Teach for Tucson must have a bachelor's degree and complete at least 24 units in their desired field before entering the program.
In the summer sessions, university students take methodology and theory courses. Then in the fall and spring semesters, they enter the public schools as interns. As a cohort program, the students begin and complete the program together when they graduate in May.
"Someone with a bachelor's degree in a content area like chemistry typically got a degree and went into the work world," said Robert Hendricks, assistant dean in the College of Education. "Now he has made a life decision to teach, and he needs a certificate."
One of the primary reasons for the teacher shortage is the lack of competitive wages compared to other professions.
Salaries for teachers in Arizona are $34,071 on average - about $5,000 lower than the national average - states the American Federation of Teachers' salary table from 1998.
"There are always openings," said Patty Stowers, a clinical assistant professor at UA and program coordinator with the Flowing Wells School District. "They can't get teachers because they can make so much in other professions."
Frequently, districts will give emergency certifications to fill vacant positions, but this offers no permanent relief, Stowers said.
"We can't keep having short-range solutions to long-range problems," she said. "There are a lot of kids coming into schools, and we need to lure people back into the idea of being teachers."
Rather than being a short-term solution, Stowers said this partnership between the public schools and the university finds quality teachers.
"We're responding to a crisis of major proportions in terms of providing quality individuals in school districts," Hendricks said. "We hope they (students) will remain in Tucson after developing a relationship with the districts."
Unlike other teaching certificate programs that take one-and-a-half to two years, Teach for Tucson condenses the process and awards students with a master's degree.
"This is a fast-track program," Hendricks said. "It streamlines the amount of time and is very intense."
With annual tuition costing $5,000, the program is also good for people who want to keep costs down, Hendricks said.
"We don't think the students are being shortchanged in any way," he said.
Teach for Tucson's accelerated schedule is designed to help students enter the schools relatively early in the program.
"Usually, you don't get into the schools until the end, and if you learn it's not for you, it's pretty late," Stowers said. "Here, you get in there right away."
After meeting last week, some changes in focus and capacity were made for next year, Hendricks said.
"The major change would be expansion of the high-need areas - math, all of the sciences, English and Spanish," he said. "These targeted areas are given preference."
While this year's program had only one cohort group, Hendricks said they plan to double the number of students next year and to expand into middle schools.
"We're increasing capacity enrollment because the program has been acceptable and we will add resources necessary to make that happen," he said.
The program teamed up with seven local school districts this year, including Amphitheater, Catalina Foothills, Flowing Wells, Marana, Tucson Unified, Sunnyside and Vail.
"We can tap into the very best," said Susan Sloan, associate principal of Mountain View High School in Marana. "We have an opportunity to get highly qualified teachers in our building, and there's a good chance we can keep them."
While the university students gain skills and a mentor, public school teachers get a co-worker, Sloan said.
"It's a win-win-win situation," she said.
In the future, Sloan said her school will take advantage of the increase in the number of student teachers.
"I wish we had been able to place three people because they are the cream of the crop."
As the vote on Proposition 301 approaches, Stowers said that the greater funding for schools could help not only public schools but also programs like Teach for Tucson.
"I think we spend a lot of money on a lot of things in this state - our children should be the top priority," she said. "This program is wonderful and important, and it is the way we should train teachers across the board."