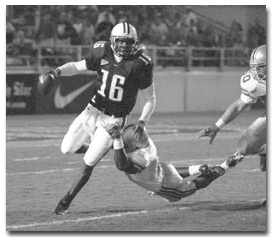 MIKE LARSON
UA senior quarterback Ortege Jenkins escapes an Ohio State pass rush earlier this season at Arizona Stadium. Jenkins led the Arizona defeat of USC Saturday by running for two touchdowns and passing for another.
By Ryan Finley
Arizona Daily Wildcat
UA QB threw just 12 times in Wildcat win
LOS ANGELES - In an age where quarterbacks are judged by how many passes they complete, UA senior Ortege Jenkins might not be considered one of the nation's elite players.
However, it was the intangibles demonstrated by the senior quarterback that made Jenkins one of the catalysts in Arizona's 31-15 victory against Southern California Saturday afternoon at the Memorial Coliseum.
"We won, we're 4-1 and we're real," Jenkins said following the game. "We're just trying to be 5-1."
The senior from Long Beach, Calif. attempted just 12 passes in his final trip to the Los Angeles area, completing six of them. The times when Jenkins chose not to throw the ball - fourth-and-short situations, quarterback hurries and opportunities when the senior had a chance to run - demonstrated the type of poise and experience that Arizona's faithful had not previously seen from the senior.
"He's a great leader," freshman tailback Clarence Farmer said. "He has great composure. (As a) senior quarterback, he's taught me a lot."
With 6:59 left in the first quarter and the Wildcats ahead, 7-0, Jenkins managed to wave off Arizona's field goal team, who had begun to run on the field with the Wildcats facing a fourth-and-one situation from the Trojans one-yard line.
Tomey, confident in his senior's ability, allowed Jenkins to suggest a play- a quarterback bootleg sneak to the left.
"Sometimes, nobody has a good idea," Tomey said. "If nobody has a good idea, we'll kick it. If our guys feel they can get it in, we'll go (for the touchdown)."
Jenkins faked a handoff to Farmer and rolled left and snuck into the endzone unabated to give the Wildcats a 14-0 lead.
Following the game, Jenkins explained why he suggested going for a touchdown rather than kicking a field goal.
"I figured if we didn't get it, we've got a great defense and (USC has) got to go 99 (yards)" he said. "If they weren't confident in my decision, they would have called a timeout."
Six minutes later, Jenkins managed to call an audible before a running play, allowing Farmer to run 80 yards for the score. By changing the play at the last minute, Jenkins was able to help open holes for the freshman.
"The nose guard was in the A-gap, so I tried to get it away from the A-gap," Jenkins said.
With the Wildcats ahead by 21 points, the senior simply had to hand the ball off in the second half as Arizona prevailed by 16 points.
Farmer, who has overcome competition from sophomores Larry Croom and Leo Mills to earn a starting spot, finished Saturday's game with nearly 10 times as many rushing yards as the entire Trojan team - a career-high 142 yards.
In the second half, Arizona attempted just four passes and used a combination of Mills, Croom and Farmer to help run out the clock in the game's final quarter.
"I think Clarence is the difference for us because of size, toughness, all the things he can do," Tomey said. "He had a real physical week."
In contrast to Jenkins' "less-is-more" style of play Saturday, USC sophomore quarterback Carson Palmer managed to throw the ball 50 times in the Trojan loss.
Palmer, who was without injured sophomore wide receiver Kareem Kelly, completed 26-of-50 passes but threw three interceptions in the game.
"Sometimes you're going to be up by 21, sometimes you're going to be down by 21," Palmer said. "This is two weeks in a row that we've come out and have shown inability to put it together. Everybody needs to come up with their own explanation."
As Palmer and the Trojans begin to accept USC's shrinking chances of winning a Pacific 10 Conference championship, Jenkins finds himself thrust into a title chase.
The senior hopes the Wildcat offense will continue to thrive under pressure.
"Game in and game out, if the offense doesn't produce, we're shortchanging our defense," he said.
For now, Jenkins is happy being a relative unknown, although he likely won't be a stranger to football fans for long.
"If you win every game for the rest of the year, you're going to get the respect you deserve," Jenkins said. "This team believes in us, our fans believe in us, and our coaches believe in us. That's all the people we need."