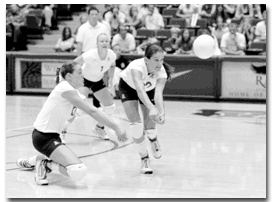 KEVIN KLAUS
UA junior outside hitter Jill Talbot and sophomore outside hitter Lisa Rutledge attempt to dig a ball at McKale Center. Arizona moved up to No. 6 in the USA Today/AVCA national rankings yesterday.
By Kamy Shaygan
Arizona Daily Wildcat
Arizona begins preparation for big weekend
The Arizona women's volleyball team moved in the rankings from seventh to sixth in the current USA Today/AVCA Division I coaches poll released yesterday.
After loosing their first match of the season, the No. 6 Wildcats have pumped out 14 straight victories, which is a new school record. Along with breaking the record for consecutive victories, Arizona also has tied the record for the best start in school history.
"It's just funny," junior setter Dana Burkholder said. "We don't really think about it because we are thinking about the next game and opponent."
The Wildcats also broke another record this season by having their best conference start in school history (7-0).
Arizona will try to extend it's conference streak later this week as they face No. 10 UCLA and No. 4 USC on Thursday and Friday night at the McKale Center.
***
Although the Wildcats have been victorious in their last 14 matches, Arizona head coach David Rubio is confident there is room for improvement.
"A lot of the players wanted to practice today," Rubio said. "We don't feel we were as sharp as we should have been this weekend.
Rubio decided to give the Wildcats the day off yesterday because of a grueling weekend in Oregon where UA defeated both Oregon and Oregon State.
The Wildcats are going to have practice today and Wednesday in order to prepare for the Bruins and Trojans.
"The biggest thing is working on our serve receive and passing," Rubio said. One Wildcat who will play a tremendous role in preparing her teammates for this weekend is Burkholder.
"Individually I am feeling great," Burkholder said. "I know that when the big matches are on the line, I am ready to play. These two teams are up to par with us, and it will be a great weekend."
***
Because of her consistent play last week in practice, Rubio will plan to feature sophomore outside hitter Shannon Torregrosa more against the Bruins and Trojans.
"Shannon has been playing terrific in practice," Rubio said. "I'm not going to hesitate to put her in."
Along with Torregrosa, sophomore middle blocker Stefani Saragosa will play against the Bruins and Trojans this week despite Saragosa having bursitis in her left shoulder.
"I'm sure she will be fine," Rubio said. "She is getting some rehab done right now, and we are tying to calm that down. That is another reason why today is a good day for her to have off."