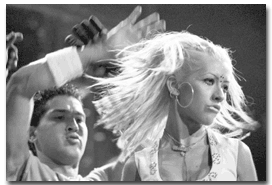 RANDY METCALF
Pop star Christina Aguilera sings Sunday for an energetic Phoenix crowd. Aguilera is known for such hits as "Genie in a Bottle" and "What a Girl Wants."
By Ty Young
Arizona Daily Wildcat
Christina Aguilera rocks America West Arena with
On a night defined by crisp choreography, bare midriffs and the deafening screams of young girls, pop singer Christina Aguilera put on a show Sunday night that proved why she is one of the most popular acts in the entertainment industry.
Judging from the thousands of pre-teens dressed in the latest "Christina" style, the crowd that packed Phoenix's America West Arena was hungry for a night to remember - and it was not disappointed.
When she spoke to the audience, Aguilera's voice sounded hoarse, indicative of the 19-year-old's busy touring schedule. When she sang, however, she took the crowd on a voyage through the vocal spectrum, keeping the audience on its feet for her hour-long set.
From the opening song, the 1999 break-out hit "Genie in a Bottle," Aguilera and her dancers pummeled the crowd with a visual spectacle. Suddenly appearing on stage in a rushed cloud of smoke, the diminutive diva strutted around the stage, pointing out to an audience that begged for more.
Appreciative of her fans' support, Aguilera made every effort to acknowledge their presence. She read numerous signs that the fans held up, even wishing one person a happy birthday.
After acknowledging her mother, who was also in the audience, she dedicated her heart-felt ballad "I Turn To You" to the fans.
After a few more powerful ballads, Aguilera energized the crowd once again with her recent smash "Come on Over," as ceiling-mounted flares showered the stage with fireworks and flames. Her dance and vocal timing could not have been better as she moved herself in and out of the intricate dance routines.
Behind the dance spectacle was a band which moved flawlessly through the songs, adding an exciting dimension to the dance beats and pop flavor. Along with the band, the on-stage DJ mixed in songs and beats from other artists.
To the male audience's delight, Aguilera wore skin-tight outfits that displayed her signature bare midriff. With every swivel of her waist and every pump of her hips, the male audience seemed to let out a collective moan.
Yet despite her sultry attire and provocative dance steps, Aguilera made sure the audience recognized the female-empowered theme that dominates her music.
"I see there's a lot of girls out there," she said as she introduced her encore song, "What a Girl Wants." "Although this a very female driven song, I want to dedicate it to all the guys out there who give us ladies what a girl wants."
The crowd again went wild, as the visual showcase climaxed with flares, fireworks and strobe lights. Aguilera emphatically thanked the audience - then disappeared in the same cloud of smoke that brought her onto the stage.