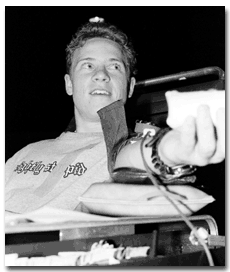 MIKE LARSON
Steven Eddy, geography freshman, talks with a nurse while donating blood for the Red Cross yesterday in Bear Down Gymnasium. The Red Cross will be set up for donations between 9 am and 3 pm through Friday of this week in Bear Down Gymnasium.
By Mindy Jones
Arizona Daily Wildcat
UA falling pints short of its overall goal
UA and ASU are out for blood this week - though the competition is on a court of a different kind.
This week, the Bear Down Gym serves as the headquarters for the Blood Donor Challenge between the two schools.
The challenge was initially proposed by the greek houses at Arizona State University in 1987 to promote an increase in blood donations for the Southwestern states.
Brian Green, recruiter for the American Red Cross, said they are currently experiencing a shortage of acceptable blood.
"We are critically low on O-negative and O-positive blood types," Green said. "As of this morning, we had less than one day's supply of blood."
The southern region of Arizona, including Tucson, requires 350 pints of collected blood to constitute a 24-hour supply, he said.
Blood collected by the American Red Cross is given to the University Medical Center, as well as the Tucson Medical Center, based on needs determined by the hospitals.
"We need people to help us meet the requirements of local organizations," Green said. "We are here to collect blood and save lives."
Although UA has collected more blood than ASU nine times in the last 13 years, this year's collection rates are significantly slower than past years, he said.
While employees blame this change on a variety of factors, including location and lack of publication, their collection goal was increased from 1,400 to 1,600 pints.
Due to construction, the week-long blood drive was moved from the Arizona Ballroom, on the top floor of the Memorial Student Union, to Bear Down Gym from Oct. 16 to Oct. 20.
Green said the current location is not as visible to all parts of the campus as the Student Union was.
In addition, Red Cross employees noticed a limited amount of advertisement on the main campus.
Carol Watkins, recruiter for the American Red Cross, said that although the residence halls and sorority houses did a good job of advertising, other campus areas seem to lack the same spirit.
"We put fliers up around campus and are hoping that the local media advertises it as well," she said. "The different colleges, as well as ROTC, have helped by advertising and sponsoring drives at their separate locations."
Watkins reported that as of Tuesday, the UA will miss its blood-collection goal by 75 pints, having a collective total of 205 acceptable pints of blood.
Many students, unaware of the challenge, chose to donate after seeing signs posted outside the gym.
Blaire Stryker, an undeclared freshman, began giving blood in high school and said it is a great way to help out other people.
"I didn't even know there was a challenge going on between the schools, but if it will help get people out here then it is a good idea," Stryker said. "It only takes ten minutes out of your time, and it really doesn't hurt that bad."
Many of those who donated agreed that the pain was bearable and the blood-drive staff helped ease what discomfort they may have experienced.
"The employees were really helpful in explaining the entire process, and I didn't have any questions," Tabilin said.
The students and employees were encouraged to relax in the canteen, a temporary food station set up with cookies and juice, after giving blood.
Each donor was given a CD case decorated with the official emblem of the challenge and encouraged to become a regular contributor.
"Naturally, the university is going to want to beat ASU in this competition," Watkins said. "But we are all after a common goal."