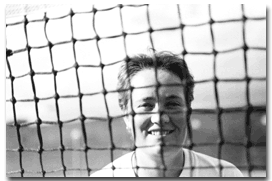 MIKE LARSON
UA senior Michelle Gough poses behind a tennis net at the Robson Tennis Center. Gough is currently ranked No. 64 in singles and will be a driving force behind the success of the UA women's tennis team this season.
Arizona Daily Wildcat
South African native on quest for championship in doubles
Arizona senior Michelle Gough knows what it is like to be a good tennis player. Now she wants to be great.
A fierce competitor on the court, Gough has entered the 2000-2001 women's tennis season on a quest to achieve greatness.
"She's a bit of a perfectionist," UA head coach Brad Dancer said. "She sets high expectations for herself and has a deep burning desire to win."
Born and raised in Johannesburg, South Africa, Gough's tennis career began at the age of seven and has yet to slow down.
Her hard work and dedication paid off as Gough earned the No. 1 ranking for the 18 and under age group of the Junior Tennis circuit in singles and doubles in South Africa.
Seeking the competition of collegiate tennis, Gough decided to move to the United States for the opportunity to play at Arizona.
"I wanted to go to a school that's good academically," Gough said. "And I wanted to be a part of the Pac-10."
Since arriving in the U.S., Gough has earned numerous awards and titles and has been named an All-American in doubles last season, Pacific 10 Conference and regional championship in doubles and a 1999-2000 Academic All-District VIII first team honor.
"She brings the team together, and she is a good role model," UA junior Brooke Taylor said. "She is a tremendous asset both on and off the court."
A dimension to Gough's game that Dancer admires is her intellect - a skill that can sometimes be her greatest hindrance.
"We are trying to get her away from analyzing her game so much," Dancer said. "We want her to play more freely and aggressively - to be less analytical and more expressive."
Gough's smart play on the court is a reflection of her work in the classroom - the senior has gotten all A's and one B in her college career.
Dancer would like to see Gough become more of a dictator of play rather than be responsive to her opponent's moves.
"I want to see her dictate the tempo of play," Dancer said. "Set the pace of the rally and claim more ownership of the court."
While Gough may not exhibit extreme power, she is a very crafty player. She knows how to take advantage of her quickness and agility, ultimately resulting in an extremely strong volley - perhaps one of the strongest in the country, according to Dancer.
As Dancer begins his second year as head coach of UA women's tennis, he refers to Gough's maturity as being a key asset to his program as well as to the performance of his players.
"She's a teacher to the rest of the team by her playing style," Dancer said. "Everyone who plays with Michelle becomes better."
Gough, who's even temper, self-confidence and burning desire to win have earned her a No. 64 singles ranking, still desires more from her upcoming season.
Among her list of goals, Gough mentions her desire to compete in the NCAA Championship for both singles and doubles and to win a doubles national championship alongside junior Lindsay Blau and is confident in her ability.
"I think those goals are pretty realistic," Gough said. "As a team we can do really well. And personally, I am ready."
Gough and Blau have earned a No. 3 national ranking in doubles this season.
Part of the success that contributes to the strong play of the duo is a strong friendship both players share for each other.
"We have a really good understanding on the court," Gough said. "There's good chemistry on the court when we're together. Knowing her so well really helps our game a lot."
Gough and the Wildcats may be on a quest for a great season, but Dancer would like nothing more than for Gough to achieve three of her own goals - be consistent with her spirit on the court, keep a smile on her face and to play with passion because when she does because according to Dancer, "she is beautiful to watch."
In comparison to the 1999-2000 season, Dancer has seen a tremendous improvement in Gough's game. With higher endurance, better speed and the utilization of her serve as a weapon, Dancer is confident in Gough's success in the upcoming season.
"She offers so many gifts to this team," Dancer said. "She's an incredibly valuable asset tot he team and a tremendous ambassador for Arizona tennis."
Gough's maturity, intelligence and strong desire to win may be what the UA women's tennis team needs in order to conquer a team goal - to finish among the top-10 schools in the country.