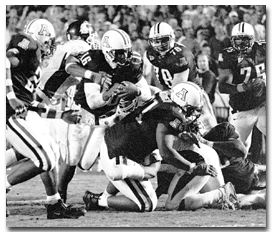 MIKE LARSON
Arizona special teams standout Gary Love tackles a Washington State punt returner Saturday at Arizona Stadium. Love, a freshman, was named the Pac-10 Special Teams Player of the Week for his efforts against the Cougars.
By Ryan Finley
Fol Jenkins not worried about playing in Autzen Stadium
lowing a game in which he averaged 21 yards per kick return, UA redshirt freshman Gary Love was named the Pacific 10 Conference's Special Teams Player of the Week.
"Gary Love has done a terrific job on special teams," UA head coach Dick Tomey said.
Love, who attended Jefferson High School in Los Angeles, returned six kicks for a total of 126 yards and had two tackles in the Wildcats' 53-47 triple-overtime victory against Washington State at Arizona Stadium.
Love is the fourth Wildcat to be honored by the Pac-10 this season.
Senior defensive linemen Joe Tafoya and Idris Haroon as well as freshman cornerback Michael Jolivette have each received the Pac-10 Defensive Player of the Week award so far in 2000.
---
For the fourth straight week, it appears as if senior center Bruce Wiggins will be unable to start.
Wiggins - a second-team All Pac-10 selection last season - would be at risk to re-injure his ankle on Autzen Stadium's Omniturf, a surface similar to AstroTurf, Tomey said.
Wiggins will once again be replaced by Reggie Sampay, a true freshman.
Tomey said that he has been most impressed with the offensive line's ability to replace three preseason starters - Wiggins, Makoa Freitas and Steven Grace. Freitas and Grace are lost for the season with foot and shoulder injuries, respectively.
"If you would have told me that at the beginning of the year that we would have played without Wiggins, Freitas and Grace - two (of whom are) all conference players, I would have probably signed up to go on a mission or something," Tomey said.
The 6-foot-3, 275 pound Sampay has only been playing center since the summer and is just 17-years-old.
Sampay and Jolivette prepped together at North Shore High School in Houston.
"We need to go down there to live," Tomey said jokingly. "We need to get a home room down there."
Tomey is more optimistic about Haroon's odds to play Saturday. The senior who tore a pectoral muscle against Washington State, is probable going to play against the Ducks.
"Idris has got a chance this week," Tomey said. "I feel much more confident about him."
---
Sophomore free safety Jarvie Worcester and Washington State receiver Nakoa McElrath should have had a rivalry going this past Saturday when the Wildcats faced the Cougars.
Instead, it was the first time the two had been on the same field.
Worcester, who prepped at La Jolla High School in La Jolla, Calif., met up with McElrath, a junior who was a standout at nearby Scripps Ranch High School.
Worcester, however, did not play when the two teams met twice in high school.
"It's funny," Worcester said. "The two games I missed in high school were against him."
McElrath had five catches for 105 yards and three touchdowns against the Wildcats on Saturday, while Worcester finished the night with four tackles and a forced fumble.
---
Tomey was hesitant to reveal whom Arizona's starting running back will be on Saturday. Leo Mills, who started last Saturday's game on the bench, will likely challenge freshman Clarence Farmer, the incumbent.
Mills ran the ball almost exclusively throughout the fourth quarter and all three overtime periods, rushing for 129 yards and two touchdowns on 19 carries. Farmer, however, had just 59 yards on 21 carries sporadically throughout the game.
"It's not complicated," Tomey said. "Leo needs to be a bigger part of the equation, and he will be. I would say he probably will play more."
Tomey is not about to write off Farmer, who led the Wildcats in rushing against San Diego State, Stanford, and USC.
"Clarence will still play a lot too," Tomey said.
---
Senior quarterback Ortege Jenkins doesn't seem to be too intimidated by Oregon's Autzen Stadium, which is notorious for its loud crowd that often makes it hard for quarterbacks to call audibles at the line of scrimmage.
"We understand that there are some problems, and we know what we got to do to make it happen," Jenkins said. "Its a football stadium - its not like a dungeon where they put poison in our food. It's a stadium, you play the game. It's between the lines that the game is on."
Jenkins did not play the last time the Wildcats traveled to Oregon in 1997.