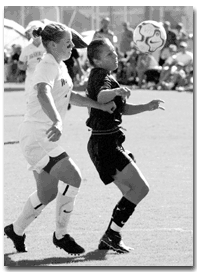 MIKE LARSON
UA junior forward Kristi Lorona battles a Washington player for the ball Sunday at Murphey Stadium. Arizona has a tough schedule remaining, as five of is six upcoming opponents are currently nationally ranked.
Arizona Daily Wildcat
McNatt out indefinitely with sprained ankle
Last weekend's game against the No. 4 Washington team was just a preview for the UA women's soccer team.
The Wildcats have six games left in the season - five of those are against nationally-ranked teams.
UA junior forward Kristi Lorona is excited about facing such tough competition in the following weeks.
"This is a great experience to play the best players in the country," Lorona said.
Last weekend's game against Washington built up the confidence of the team, Lorona said.
Washington edged out a victory, 2-1, against Arizona despite the fact that the Wildcats led for most of the second half of the game.
"We were up on the number four team in the nation," Lorona said. "That just goes to show that we can play with the big girls."
---
Although the Wildcats only managed to score one goal and were dominated by the both Washington and Washington State in shots last weekend, Wildcat players don't believe they are in an offensive slump.
"It's pretty much the luck of the draw," freshman forward Liz Bartlett said. "Some days you have it, some days you don't. Definitely we had the talent and the ability there."
Lorona agreed.
"We were pressing for goals, (and) we had a lot of dangerous opportunities - that just goes to show that our offense can create things," Lorona said. "We created a goal out of it and seven shots."
---
The Wildcats are trying to stay afloat as injuries have added to the obstacles the team has to face in the midst of Pacific 10 Conference play.
"At this time of year, everyone has aches and pains - you've just got to preservere through," Arizona head coach Cathy Klein said.
The latest injury occurred in Sunday's game against Washington when freshman forward Meaghan McNatt sprained her left ankle after colliding with a UW player.
McNatt was on crutches this week and it is unknown how long she will be sidelined.
Senior goalkeeper Inger Airheart practiced this week and is expected to play this weekend against No. 20 Stanford and No. 8 California after being sidelined for almost two weeks from a shoulder injury.
Airheart re-aggravated a previous shoulder injury in warm ups before the Oct. 8 game against Oregon.
---
Arizona looked like a completely different team in Sunday's game against Washington after a subpar performance against Washington State Friday.
Against WSU, the Wildcats were shutout, 4-0, and outshot, 13-7.
Bartlett said the team wasn't satisfied with its play against WSU and just came out Sunday to prove its critics wrong.
"Definitely after Friday we came out with a more competitive spirit," Bartlett said. "Even though our record doesn't show it, we know in our hearts that we're better than that."
Junior goalkeeper Shannon Monti said the team just went out against Washington with everything it had.
"We never have anything to lose, we only have everything to gain," Monti said.