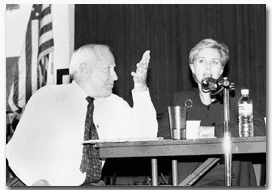 MIKE LARSON
Arizona Congressman Jim Kolbe, left, and State Superintendent of Education Lisa Graham-Keegan address Tucson educators' and students' questions regarding public education during a Town Hall meeting Wednesday evening at Catalina Methodist Church. As Kolbe's eighth-consecutive term ends, he runs for his U.S. House of Representatives seat.
By Mindy Jones
Arizona Daily Wildcat
Education, social security and relief among the debates
Running for his ninth consecutive term in the U.S. House of Representatives, Jim Kolbe said he plans to focus on issues students wouldn't normally pay attention to.
Kolbe, a 58-year-old Indiana native and professed advocate of education, social security and economic reform, moved to Arizona at the age of five.
"My parents moved here in 1947 and bought a ranch," Kolbe said. "They wanted to start a new life and raise their family in Arizona."
Kolbe accepted a position as a page for former Arizona Sen. Barry Goldwater in Washington, D.C., during the summer after his sophomore year in high school and said he became instantly inspired.
"I was fascinated by government and the difference it could make," he said. "I realized that I could make a difference in people's lives, too."
After receiving a bachelor's degree from Northwestern University in political science, Kolbe continued his education at Stanford University.
Kolbe's decision to enlist in the Navy during the Vietnam War was fueled by curiosity and a desire to fight for a cause he supported, Kolbe said.
"There wasn't a mandated draft in the Navy, but I volunteered," Kolbe said. "I really believed I could change things, and I believed in what we were trying to accomplish."
Kolbe is now trying to accomplish a goal of a different kind, as voters make their final decisions for Arizona's District 5 before Nov. 7.
Kolbe identified some major issues as having a significant relevance to college-age residents.
"They have the most at stake because they have the most time in front of them," Kolbe said. "Some of them don't even realize how much they are affected until they get out of school and have to go to work every day."
Until then, he noted, it is important that students realize the relevancy of current political initiatives and referendums.
Congress is considering a major appropriation bill that would increase the amount of money available for Pell Grants and other mandated federal money for student aid.
Kolbe supports the bill because he said he recognizes the importance of higher education.
"No one doubts that we have the most creativity and the best (college) education in the United States," he said.
Kira Mauro, a graduate student in linguistics, said although Kolbe said he supports higher education, his actions don't always represent his support.
"Publicly, he is very pro-education," she said. "But he favors the least cost to tax payers at the upper levels."
Although Kolbe admits the money needed to increase Pell Grants and student aid will come from taxes, he said no specific tax increase is being proposed.
Kolbe said college students also overlook social security concerns.
"Students need to realize how important social security reform is to their generation," he said. "We need to fix social security so that students are guaranteed to see its benefits in their time."
Manuel Espinoza, a political science junior and UA College Republicans president, agreed that UA students should not overlook social security reform.
"Kolbe is focusing on many issues really affecting students, such as social security, healthcare and education," he said. "The truth is, Kolbe is helping the university as well as Tucson as a whole."
Other bills - including a proposed solution to the problem of non-recoverable funds used by hospitals to care for illegal immigrants along Mexico's border - also affect students.
The Border Hospital Relief Act, once completed, would authorize giving $25 million a year to hospitals along the Mexico border.
The legislation would benefit the University Medical Center, Kolbe said, which currently suffers a loss of funds from highly complicated medical cases.
Kolbe sees this problem as a failure on the part of the national government and said hospitals such as UMC should not be held accountable.
Bruce Norton, UMC chief financial officer, agreed with the prospect of providing financial relief to hospitals in need.
"Any help that we can get in regard to the foreign-national situation is greatly at need," Norton said. "We provide uncompensated care to illegal citizens, and that takes away our opportunity to help Arizona residents dollar for dollar."