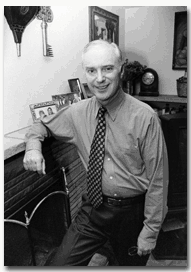 RANDY METCALF
Senator George Cunningham stands in front of his fireplace at his home yesterday evening. Cunningham promises to support education funding from the elementary school level to the university level.
Arizona Daily Wildcat
Promises to fight for education and healthcare funding
George Cunningham says he has a strong commitment to improving schooling and hopes to be elected to the U.S. House of Representatives to ensure that all students get the education they deserve.
Sen. Cunningham, D-Tucson, said he feels he has the full support of Tucson Democrats, even as well as some Republicans and independent voters, for the upcoming congressional election.
Cunningham, a 55-year-old candidate up against Rep. Jim Kolbe, R-Arizona, promises to support education funding not only at the elementary and secondary school level but at the university level, too.
"I will be a very tenacious advocate for the UA," Cunningham said. "I want to support ensuring enough financial aid for the students."
The UA is very familiar to Cunningham, who has spent 44 years of his life in Tucson. After earning both his bachelor's and master's degrees in public administration at the UA, he joined the faculty team. During 1977-1988 and again in 1990-1992, Cunningham served in many positions including vice president for administrative services, associate vice president and director of planning and budgeting and assistant to the president.
"My favorite experiences as a student were being involved with student politics and student government," Cunningham said.
He said studying for his degrees was a very exciting time.
"It was the time for many changes in our culture, with all the protests for the Vietnam War, and a transition in terms of our society," Cunningham said.
He added that it was also a very sad time in his life, because several people he admired, such as former President John F. Kennedy and civil-rights activist Martin Luther King, Jr., were murdered.
Cunningham began his career in politics in 1972, when he joined the Executive Committee of the National Conference of State Legislatures. His resume included positions such as special assistant to the president of the Arizona State Senate, Chief of Staff to former Gov. Rose Mofford and assistant city manager for the city of South Tucson.
In 1992, Cunningham decided he needed a different scene and was elected state representative in District 13, where he served for two years. He was re-elected to the same position in 1994, and after another two-year term, he ran for Arizona state senator.
"After eight years of serving in the Arizona Senate, I decided I wanted to work in a different position once again, so I decided to run for U.S. Congress," Cunningham said.
Cunningham formally announced his campaign in January, and since then he has had more than 200 volunteers working on his Senate run - mailing out literature to Tucson residents and hanging up signs on street corners.
Cunningham said he thinks he will do a more effective job than his opponent, because he will fight for more education and healthcare funding.
Cunningham said he supports funding for Head Start, a pre-school learning program, and also supports lowering class sizes and hiring more teachers.
"I don't think this election is about which one of us is more experienced or more respected in the community," he said. "It's about the difference Kolbe and I stand on certain positions, it's about the issues Kolbe has voted against that will really affect the voters' decisions.
"If you're going to be successful, then you have to make sure to have consensus with other legislative members," he continued. "You don't have the leisure of independent decisions, and I have had experience with that."
Cunningham said the three greatest accomplishments in his life are his children: Paul, a UA graduate; Eve, who graduated from Northern Arizona University; and Molly, a freshman at Arizona State University. He and his wife, Marjorie, a UA graduate as well, have been married for 31 years.
"We all love Arizona," he said.
If he is not elected, Cunningham said he will not drop out of sight because he still wants to be active in the Tucson community.
"I enjoy too much being around people and addressing their problems, but I think I can make a major contribution if I am elected," he said.