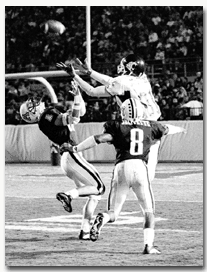 ERIC M. JUKELEVICS
Freshman cornerback Michael Jolivette converges on Washington State wide receiver Nakoa McElrath last Saturday at Arizona Stadium. The No. 21 Wildcats will face No. 7 Oregon tomorrow.
By Maxx Wolfson
Arizona Daily Wildcat
Wildcats to attempt first win in Eugene under Tomey
If history is any indication of how the Arizona Wildcat football team will fare this weekend when UA heads to Eugene, Ore. to take on the Oregon Ducks, all signs point to a loss.
The Wildcats (5-1 overall, 3-0 Pacific 10 Conference) hope that history does not repeat itself tomorrow night when UA and the Ducks meet in a matchup of the Pac-10's only undefeated teams.
The game, which will show live on Fox Sports Net, starts at 7:15.
The Wildcats are 0-4 under head coach Dick Tomey in games played at Oregon's Autzen Stadium and have yet to win in Eugene in 14 years.
"We have lost some really tough games at Oregon," Tomey said. "We try hard to not let any uncontrollable external circumstances control the outcome of the game. We understand the circumstances up there, but it boils down to the team that we are playing."
The Wildcats, which are ranked No. 21 in the nation, will try to put an end to UO's 18- game home winning streak. The No. 7 Ducks (5-1, 3-0 in conference) have the longest home winning streak in the conference.
"The game this weekend should be really up-tempo," fifth-year senior quarterback Ortege Jenkins said. "Whoever comes out victorious in this will come out the front-runner in the conference."
After UA's triple-overtime victory against Washington State last weekend, the Wildcats will attempt to capitalize on any momentum gained in the emotional win.
"We were able to win one where it was really difficult, where we were behind, where we were struggling, where there was a lot of diversity," Tomey said. "The key thing is that we were able to stay the course and get the game won."
Last season, the Ducks got the best of the Wildcats at Arizona Stadium.
In what was an offensive shoot-out - Arizona finished with 552 total yards while Oregon totaled 435 yards - the Wildcats had a an opportunity to put the game into overtime with just two seconds left.
Down by three points and stopped on UO's 32-yard line, Arizona place kicker Mark McDonald missed a 45-yard field goal, giving the Ducks the victory.
The Wildcats are expecting a stronger Oregon team this season.
"The biggest improvement in their team is their defense," Tomey said. "In all the conference games, they have not allowed anyone more than two touchdowns and that's a tough thing to do. Their just a very solid team."
The Wildcats will face a stingy Oregon defense - so far in 2000, the Ducks "Gang Green" attack is tops in the conference in total defense.
Arizona will attempt to counter UO's defense by platooning two running backs - sophomore Leo Mills and freshman Clarence Farmer.
Mills, who Tomey called a "difference maker" last weekend after the sophomore ran for a career-high 129 yards on 19 carries, is expected to get more carries tomorrow night.
"Leo needs to be a bigger part of the equation," Tomey said. "Clarence is still going to play a lot, too."
Jenkins, who was on the sidelines as a backup the last time the Wildcats played Oregon in Eugene, will get his first opportunity to play as the starting quarterback in Autzen Stadium.
"He is playing his ball game now," Oregon head coach Mike Bellotti said. "I always thought he was a great leader. He can throw the ball a country mile and he's a tremendous weapon - I'm still figuring out how to contain him."
Offensively, the Ducks will be led by junior college transfer Maurice Morris, who has helped the UO to a Pac-10- best 181.3 yards per game.
"Morris is a good player," Tomey said. "He is very versatile and very tough. He gets better as the game goes on. He has carried the ball 30, 40 times a game and he is a terrific player."
Much of Oregon's success can be attributed to its offensive line. The Ducks' front five have allowed only five sacks in six games. In contrast, UA's injury-ridden line has allowed 16 sacks so far this season.
The game's outcome will likely be decided by Arizona's defense, notably their cornerbacks. The Ducks will attempt to pass the ball if Morris stumbles in the game's first drives.
UO junior quarterback Joey Harrington will have to deal with Wildcat freshman cornerback Michael Jolivette, who leads the Pac-10 with five interceptions.
"Michael has shown maturity far beyond his days this year," Tomey said. "It is just incredible what he has done so far, but the great thing is that he still has a lot of things he can do better."
Bellotti feels that the Arizona defense is much improved.
"They are playing with zeal, fire, speed, quickness, and are physically improved at the line of scrimmage," Bellotti said.