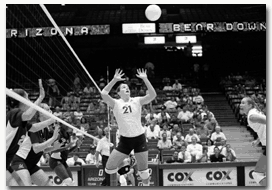 KEVIN KLAUS
Junior Dana Burkholder sets up senior middle blocker Marisa DaLee earlier this season against California. The No.5 Wildcats will play host to Washington and Washington State this weekend at McKale Center.
By Brian Penso
Arizona Daily Wildcat
Wildcats to compete without key player
Arizona's fifth-ranked women's volleyball team will attempt to continue its success this weekend when the Wildcats play host to both Washington and Washington State in a Pacific 10 Conference weekend series in McKale Center.
The Wildcats will play host to the Huskies tonight and the Cougars tomorrow. Both matches begin at 7.
Arizona(15-2 overall, 8-1 Pac-10) - currently tied for first place in the Pac-10 - might be the odds-on favorite to sweep both Washington (5-11 overall, 1-8 Pac-10) and Washington St.(12-6, 3-6), but Wildcat coaches and players are worried nonetheless.
UA sophomore middle blocker Stefani Saragosa said that every team in the Pac-10 has the capability to play great volleyball, which makes each squad a possible threat to overthrow the Wildcats.
"We are definitely not going to overlook either of the Washington schools, Saragosa said. "Any team in the Pac(-10) can win on any given night. We respect every team that we play."
The Wildcats will compete this weekend without Saragosa, one of the team's surprise players in 2000.
Saragosa has struggled with tendonitis in her right shoulder and has worn a sling throughout the week.
"Stefani is an integral part of our team's success," UA head coach David Rubio said. "Fortunately, we have a really deep team."
The injury couldn't have come at a worse time for Saragosa, who had been streaking in recent weeks.
The sophomore had a13-kill performance with 10 blocks and a .500 hitting percentage against No. 4 USC last Friday at McKale Center.
Junior middle blocker Erin Sebbas will replace the injured Saragosa in the rotation.
Rubio said that sophomore outside hitter Shannon Torregrosa will also see increased time in the middle blocker role, her natural position.
"It's never good to have an injured player, but this will be a good chance for Erin to get some playing time," Rubio said. "Also, Shannon is definitely looking forward to returning to the middle."
With each victory, the Wildcats become closer to being considered one of the nation's elite volleyball programs. With success, however, comes the threat of an upset.
"We definitely have a big bull's-eye on our back," Rubio said.
Washington and Washington State will both arrive in Tucson attempting to salvage their seasons as the second half of conference play begins. A victory against the conference's top team would be a step in the right direction for the Cougars and Huskies.
"They need an upset to make the playoffs, which means they will be playing extra hard," senior middle blocker Marisa DaLee said.
The Wildcats are coming off their most dominant performance of the season last Friday against USC. In the match, five UA players recorded double-doubles.
In order to continue UA's success, coaches have been emphasizing the need to improve its passing and eliminate mental mistakes to become a better team.
"Coach wants us to improve by 2 percent each week," Saragosa said. "Each day, we practice hard and try to improve."
Although Arizona is soaring to the top of the rankings, sophomore outside hitter Lisa Rutledge is not concerned about the team's position.
"As a team, we never think about the rankings - we think about our next opponent," Rutledge said. "The rankings, though, give us confidence because it is a reflection of all of our hard work and dedication."