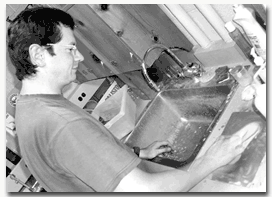 MATT HEISTAND
UA Geosciences Research Associate Bernd Shone smoothes the surfaces of clam shells Wednesday evening at the Gould-Simpson building. Schone and his team are using the crustaceans to map the climatological history of the Gulf of California.
By Blake Smith
Arizona Daily Wildcat
Former tree researcher uses crustacean to study gulf climate past
While he used to study trees to better understand climate history, Bernd Schone has found a more accurate method under the sea.
Schone, a geological sciences research associate, became interested in studying clams while researching a global disaster which affected many oceanic animals 385 million years ago.
For the past nine years, Schone and his colleagues have been attempting to reconstruct the climate and water pattern history of the Gulf of California by examining the clams.
Clams are very good indicators of past climate because they regularly grow new bands, he said.
"Clams grow a new band every day," Schone added.
The bands represent the sea creature's age.
The researcher and his team are now examining clams to get a better understanding of environmental effects in the ocean.
"Two major objectives that we are dealing with are in the northern (Gulf of California)," said Karl Flessa, UA professor of geosciences and team member on the study.
"We want to reconstruct the gulf history before the river flow was turned off," Flessa added.
The goal of the reconstruction is to learn about all aspects of the Colorado River delta before and after the installation of dams in the 1930s.
The research includes gathering data about the change in river temperature because of the dams, as well as looking at the change in freshwater content of the river during the same time period.
Clams will help scientists achieve both of these objectives.
Researchers hope to learn about the flow of water and freshwater influx before the construction and the temperature of the river after dam construction, Schone said.
While the sea creatures give very precise information, there is one downside to studying the clams in the Gulf of California - they only live for about 20 years.
"We can date the clams with other methods," Schone said. "We can use radiocarbon dating and a new thing called amino acid DNA."
Using these methods, scientists can gather information from dead clams with tremendous accuracy. The age of a clam can be determined within an accuracy of 50 years, dating back nearly 1,000 years, he added.
Schone hopes to get a collection of clams from different time periods and string vital information from the clams together to fill in data gaps.
The research is expected to continue for another couple of years. At that point, Schone said other areas of the world could be looked at using clam data.