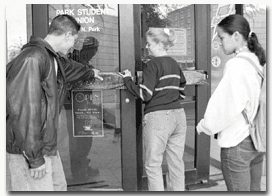 Undeclared sophomore Eric Perry (left), elementary education sophomore Jennifer Atteberry (center), and undeclared freshman Stephanie Spencer pause to look at the
By Mindy Jones
Arizona Daily Wildcat
Park will close at 11 p.m. instead of 8 p.m. Sunday to Thursday
Students looking for a place to study have found a new home in the Park Student Union.
Beginning this weekend, the union will remain open Sunday through Thursday until 11 p.m., a three-hour time change.
Kathi Van Os, manager of dining services at the union, said the time change was made based on responses from a student survey generated through the residence halls near the union.
"Many of the students wanted something open until at least 10 p.m." Van Os said. "Everything is on a trial basis around here, so we are going to try to keep a place open for people to study until 11 p.m.."
Although the doors to the union, as well as the upstairs seating area and the union store will adhere to the new hours, the gift shop and restaurants inside do not plan on staying open later, she said.
"We don't expect to get any financial benefit out of this," Van Os said. "I hope that we do, but in the past there has been a request for later hours, and not many students took advantage of them."
Sarah Konkle, freshman biology major, said she would definitely use the union more once the later closing time goes into affect.
"Even though I live in Palm Shadows, my friends usually go to the union at least three or four times a week," she said. "Its very hard to find places that are open late, especially on the weekends."
Van Os said although there has been some request for later weekend hours, the facilities are not always available.
"There are many university-affiliated events held here in the union on Friday and Saturday nights, restricting the space," she said. "Besides, I don't know how much studying students really do on the weekends."
Other academic resources, such as the tutoring center located on the second floor of the union, will attempt to extend their hours in the spring.
Sylvia Myadeski, director of the Freshman Year Center, said that any changes would be based upon the availability of tutors
"We just heard about this change, and therefore weren't prepared to make a difference in our hours," Myadeski said. "We will probably try to stay open until at least nine, if there appears to be a need."