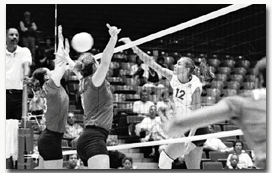 KEVIN KLAUS
Senior middle blocker Marisa DaLee spikes a ball against Washington State Saturday night in McKale Center. The No. 5 Wildcats defeated both Washington and WSU this weekend.
By Brian Penso
Arizona Daily Wildcat
New players rise to the occasion and veterans come alive
The No. 5 Arizona volleyball team continued in its winning ways this past weekend, cruising to a series sweep over both Washington and Washington State to stay tied atop the Pacific 10 Conference with No. 4 USC.
The Wildcats (17-2, 10-1), which have won ten straight conference matches, dominated the weekend as they swept the Huskies(5-12, 1-9 Pac-10) and the Cougars (12-8, 3-8 Pac -10), each in four games.
Coming into the weekend, the Wildcats were short-handed due to the loss of sophomore middle blocker Stefani Saragosa, who has tendonitis in her right arm.
With her loss, junior middle blocker Erin Sebbas replaced her in the rotation.
"Erin really stepped up her play," UA senior middle blocker Marisa DaLee said. "Every day in practice, she competes with all of us and she just stepped up her play."
Sebbas finished the weekend with 13 kills and a .385 hitting percentage.
"Erin played well tonight stepping in for Stefani," head coach David Rubio said. "I was very pleased with that."
Unlike many of the top teams in the nation, Rubio has been mixing up his lineup, preventing other teams from forming a set defensive strategy.
"I think our team is so deep in all areas that we can depend on anyone," Sebbas said. "I thought this was another day, and I feel I fit in just as much as anyone else. We are, though, fortunate to be so deep and talented."
The weekend series served as a coming out party for sophomore outside hitter Lisa Rutledge, who had been in a slump lately.
"I am happy to be able to get out there and play the way that I know I can play," Rutledge said. "I have been in a funk lately, but in practice I have been working really hard and I just played with a lot of confidence, which makes me more aggressive at the net."
Rutledge finished the weekend with 26 kills on a .33 hitting percentage.
"Lisa looked as good as I have seen her in a long time," Rubio said.
"She swung with good aggressiveness - the best I have seen her swing in a month and a half and it was great."
Washington seemingly had its hands full with Rutledge and the rest of the Wildcats.
The Huskies were outmatched in every aspect of the match, a 15-1, 15-5, 15-13 sweep by UA.
DaLee led the way for the Wildcats with a .750 hitting percentage, tying a school record with Beth Grupenhoff (1982), Tamika Dennis (1994), and Michelle Fanger (1997).
"It was very exciting," DaLee said. "Everything was clicking out there. Our setting and passing was great."
The Arizona defense held the Huskies to a mere .120 hitting percentage.
"Washington helped us work on the little things needed to make our team better," junior outside hitter Jill Talbot said.
Although the Wildcats breezed through Washington, Arizona did not let its guard down against a hungry Washington State team. WSU came into Tucson hungry for a bid into the postseason.
"We did not take Washington State lightly," Talbot said. "We knew that they could come out and play the best game of their life and beat us."
Arizona seemingly came out focused against the Cougars, evident in the first game's 15-5 victory over WSU.
The Cougars were dumbfounded by the play of the Wildcats in the first game, one in which the Cougars hit just .095 from the field.
Just when the Wildcats seemed to be cruising to another sweep, WSU bounced back to shock Arizona with a 19 - 17 victory in the second game.
Washington State's elation was short-lived, however.
UA seemed to increase their intensity level in the third and fourth games, defeating the Cougars 15-2 and 15-4, respectively, to clinch the victory.
"We came out and served well and played steady and stayed on course," head coach David Rubio said. "The girls knew what they needed to do."