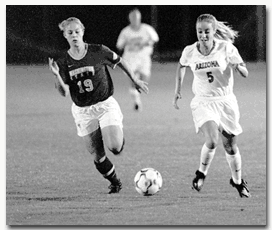 MIKE LARSON
Junior midfielder Katie Winship dribbles past a Washington State defender on Oct. 13 at Muphey Field. The Wildcats fell to 0-5-1 in the Pac-10 this past weekend with losses to No. 8 California and No. 20 Stanford.
Arizona Daily Wildcat
UA still in conference play
The UA soccer team is still winless in the Pacific 10 Conference after being swept by the Bay Area schools this past weekend.
The Wildcats - in the midst of a six-game losing streak - were shut out by No. 20 Stanford Friday and No. 8 California yesterday. Both games were 2-0 losses.
In Friday's game, the Wildcats were seemingly outmanned by the Cardinal.
Stanford sophomore midfielder Kelsey Carlson gave the Cardinal (9-4-1 overall, 2-2-0 Pac-10) an early advantage when she scored 12 minutes into the game.
The Wildcats were able to hold the Cardinal to just one score until the last five minutes in the game when sophomore midfielder Callie Withers capped off the victory by scoring a second goal in the 84th minute.
Stanford outshot Arizona, 14-6.
UA freshman forward Liz Bartlett was the offensive leader, generating five shots in the two games.
Both Bartlett and freshman Sierra Cristiano attempted two shots in Friday's game against Stanford.
Wildcat goalkeeper Shannon Monti played the entire match in goal against Stanford, garnering five saves.
Arizona was unable to bounce back in Sunday's game against Cal.
The Golden Bears took the lead early in the game when junior forward Kyla Sabo nailed a header from senior midfielder Natalie Stuhlmueller in the 8th minute to put Cal ahead, 1-0.
The Golden Bears' second goal came later in the first half when sophomore defender Ashley Mueller capped Cal's victory with a goal in the 24th minute of the game.
The Wildcats were able to shut down All-American candidate Laura Schott, the Pac-10's leading scorer. UA ended Schott's streak of scoring at least one goal in eight-consecutive games.
The Golden Bears (14-1-1, 4-1-0) still outshot the Wildcats 15-7.
UA senior goalkeeper Inger Airheart made her debut in the net after being sidelined for two weeks with a shoulder injury.
Airheart platooned in the net with Monti. The senior had one save, while Monti had five.
With the losses, Arizona now stands at 3-11-2 overall and 0-5-1 in Pac-10 play.