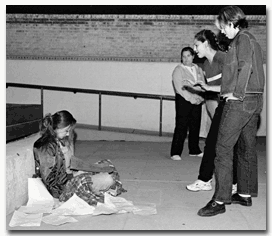 KEVIN KLAUS
Family and consumer resources junior Amanda Pennington, right, and undecided sophomore Cyndi Mondragon harass bachelor of arts senior Kelly Sietsema, left, for asking for spare change during a Tunnel of Oppression skit last night in Kaibab-Huachuca Residence Hall. The Tunnel of Oppression is shown with many other skits through tomorrow night.
The students sign up and are brought down to the tunnel in groups. The first thing they see is a staircase where words such as "slut," "cracker," "wop," "spic" and "redneck" are plastered to the walls.
Once students walk down the stairs, they are led into a room decorated with hate symbols like swastikas. They are then dragged out, yelled at and forced into a dark room by a student acting as a Nazi guard.
The room is supposed to resemble a World War II gas chamber. After a few seconds, students hear the sound of gas being sprayed in the room. Next, the lights come on and a sign that says, "you have been executed for your religious beliefs" is displayed.
The students are then led into a dorm-room setting where a black actor walks in and listens to the answering machine. The message is from someone who tells the student she is a "nasty little nigger" and questions why the student is in school at all because "animals can't be taught."
The next room has two skits that are focused on gender and domestic violence.
These skits were changed this year to incorporate how people learn values at home, said Matt Case, a history junior and a skit-writer for the tunnel.
"We kind of followed the model for the past two years, but we combined gender with relationship violence," Case said.
There are other skits about body image, homosexual discrimination and homelessness.
The body image skit was rewritten this year to focus on an individual's weight, Case said.
The skits were designed to realistically show the emotions involved in oppression.
"Most students at the university don't see the discrimination that's here," Case said. "We get people who really are not sure what they are going to see, and they learn from the skits."
The last two images students see are a video of the Rev. Martin Luther King, Jr. and a poem called "First they came for the Jews" about the importance for everyone to take a stand against oppression.
This format of learning is different than other UA diversity programs that, in the past, have been discussions or in a lecture format.
"I think it's just more powerful," said Vanessa Stedronsky, a chemical engineering sophomore and tour guide for the event. "It shows what happens when people are oppressed. It is not just statistics and numbers. It is to the point and accurate of what happens to people."
The co-chairs of the event said that this format for learning can teach students stuff that they would not learn in a discussion.
"The tunnel shows the realistic aspects of oppression," said Tamara White, the hall director at Manzanita-Mohave and co-chair of the tunnel. "It is not meant to shock people. This is realistic because it does happen."
Some students felt they learned a lot from the experience.
"I did not want to come because I thought it would be too intense," said Jason Winsky, an undeclared freshman. "Now I feel like I have been made aware of the issues around me."
Because the program can be shocking to students, responders waited outside of the tunnel, where tour-takers were asked to talk about their experience.
"Participants are affected by the program every time they go through it," said Matt Helm, a member of the student programs office and one of last year's Tunnel of Oppression chairs.
Most of the volunteers came from different organizations across campus, Helm said.
About 80 students came last night, and about 300 to 400 were expected for the rest of the week, White said.
"I think it was a definite success," said Kenny Neal, a business marketing junior. "The only way to learn about these issues is to put people in the situation."
Residence Life started planning this event in mid-September, White said. They rely on about 50 volunteers each night to run the tunnel.
"I think we are growing by building up a good reputation," Gonzales said.
This year is the third year Residence Life has sponsored the Tunnel of Oppression, which was modeled after a program at Northern Arizona University, Helm said.
"If they did all hate and oppression education like this, so many problems could be solved," said Eddie Martinez, a pre-law sophomore.