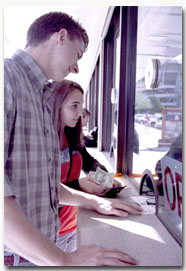 KRISTIN ELVES
Biological chemistry junior Doug Hartz (left) and biological chemistry sophomore Jennifer Reece purchase Season A tickets for the 2002-2001 basketball season at the McKale ticket office yesterday afternoon. They were just two of the 4,900 students to win tickets in the basketball lottery.
Arizona Daily Wildcat
Only half of student tickets have been purchased, leftovers will be
More than 2,000 UA men's basketball student tickets have not yet been claimed, but athletic directors are hoping today - the last day to purchase tickets - will draw a large crowd.
Darlene Sprigg, director of ticket operations, said that out of the 4,600 tickets available to students, only about 2,600 have been picked up.
If the tickets have not been claimed by 6 p.m. today, students who did not win the lottery, or are one of the 50 alternates who were randomly selected, will have the chance to buy them tomorrow at the McKale's ticket office at 10 a.m.
Students will not be allowed to stand in line until 8 a.m., and the tickets will be available on a first-come, first-serve basis, Sprigg said.
"UAPD will be there to patrol (the area and keep) students from camping out before 8 a.m.," she said.
The fact that students don't claim their winning basketball-lottery tickets has been a problem for more than five years, said Sprigg.
"We wanted to make tickets more accessible to students this year, so we made a few changes," she said.
For the first time ever, students were able to enter the lottery via phone and check the UA athletics Web site for results of the lottery.
Students were also given an extra day to claim their tickets, instead of the five days given in past years.
"We really want the students to be at the games, they make a lot of noise and support the (men's basketball) team," Sprigg said.
Scott Shake, associate director of athletics, said the athletic department has worked hard to reach out to the students and communicate with them.
"I am really surprised with the amount of leftover tickets, but it gives more students a chance to get season tickets," Shake said.
Shake said that maybe students are busier now and have more time commitments than in past years which could be a reason why they do not purchase their tickets.
"They take the first step of the effort, but who knows why they don't take the second," he said.
John Perrim, senior associate director of athletics, said that he hopes students will show up today to claim their tickets because this season should be an exciting one.
Perrim also said that the athletic department will continue to try solving students' concerns and problems that arise with ticket sales.
"We are always open to suggestions on how to improve ticket marketing," he said.
Both Perrim and Shake said that they have met several times with the UA Associated Students to increase student satisfaction with athletics.