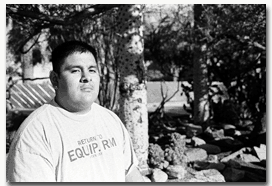 RANDY METCALF
Graphic design junior, Samuel Tenakhongva, sits outside on the UA Mall yesterday afternoon. After Tenakhongva graduates, he plans to complete the project he began this summer and reconstruct the deteriorated homes in Walpi for the Hopi people.
By Ayse Guner
Arizona Daily Wildcat
The project needs $760,000 funding to become a reality
When Samuel Tenakhongva visited his hometown this summer, he planned to do more than visit family and friends.
Tenakhongva wanted to revive his American Indian culture and save a 1,000-year-old Hopi village from deterioration.
"We teach our young generations how homes were built by using traditional Hopi architecture," he said.
Tenakhongva, a University of Arizona graphic design junior who began as an architecture major, presented his summer research Monday to students and faculty. His research focused on his assessment of the structural status of Walpi - one of 12 villages in the Hopi reservation in northern Arizona - that is falling apart, he said.
In the 1930s, about 400 people were living in Walpi. Now, only eight people temporarily live there during the summer and winter, mainly because of the deterioration, Tenakhongva said.
After two months of physical surveys and data collection, Tenakhongva's message to the people on the reservation was "to take the initiative onto themselves to go and repair the village because nobody else would do it."
The village residents supported the future plans, he said, "because they would like to see their homes repaired."
When Tenakhongva graduates in about two years, he said he wants to complete the project he began this summer and reconstruct the deteriorated homes in Walpi as a safer environment for the Hopi people.
His restoration project, if completed, could also boost tourism in the town and increase the economical condition, he added.
Although he was alone on the field while he conducted his research, the UA American Indian Studies Programs Office of Community Development supported the project from the beginning.
Claudia Nelson, community development program coordinator, said Tenakhongva's project was one of many services provided by the UA's American Indian community. The project was coordinated by First Mesa Consolidated Villages, a local unit of governing authority for the Hopi constitution, and was funded $3,000 by the UA Research and Graduate Studies.
Tenakhongva's project stands out from other architectural projects because instead of present-day architectural procedures, traditional Hopi architecture fundamentals will be used for renovation, he said.
"If traditional methods can be taught to younger generations, a more natural landscape will be created," he said.
By using the method and materials originally used by the Hopi, Tenakhongva said he hopes to restore his village to what it looked like 100 years ago.
But the project requires funding, at least $10,000 to $20,000 per home, with 38 homes in Walpi that needs to be repaired, he said.
Nelson said the outreach program is looking for the funding that would allow the UA to stay involved in Tenakhongva's project. The research support office also works with the American Indian Studies Programs to locate funding.
One of the possible funding sources is the United States Department of Agriculture Rural Housing Service, Nelson said.
"UA has financial money to undergo construction projects to create a positive impact for the whole community," Tenakhongva said. "Where I live, we don't have the resources and funding."
Walpi has neither running water nor electricity, and the residents could use this project as an opportunity to protect their culture.
"People survived there for hundreds of years," he said. "They really see no need for it (electricity and running water)."
Through various organizations such as the Hopi Foundation, Tenakhongva is searching for funds.
If he receives the funds, the Hopi village will be returned to its original state in about eight to 10 years, he said.