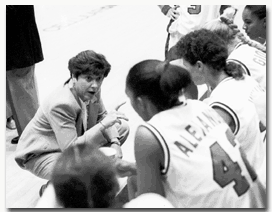 file photo
UA head coach Joan Bonvicini instructs her players on the bench. Bonvicini said the she is satisfied with her team's play so far this season.
By Kamy Shaygan
Arizona Daily Wildcat
Head coach satisfied with practices in early season
Have you been pleased with your team's performance in practice so far?
Yes, I have. I think we have worked extremely hard, and I like our attitude a lot. Those are positives.
Do you feel that student-athletes should be compensated with benefits other than tuition since athletics takes up so much time?
No, not right now. They do a lot for the university, but I think they have enough to budget on and the kids that are really in need will generally get money from the Pell Grant.
Whom do you consider the leader of the team right now?
Reshea Bristol (senior guard) and Tysell Bozeman (junior guard) have been excellent leaders. I say Veranda James as a freshman, and I think Julie Brase (sophomore guard) as well.
Even as a freshman, do you feel Veranda James is capable of being a leader?
Yes. I think she looks up at our upperclassmen, but I think she is confident enough in her own abilities but also confident enough to speak up. I think she is a person who is very much well-respected.
Would you ever consider leaving the collegiate level to coach pro?
I have been offered three head jobs in the pros. At the present time, I really enjoy coaching the elite athlete and I have a number of players in the league but I am really happy here.
I came here to win a Pac-10 (championship) and a national title. We have been close in the Pac-10, and we definitely have room to grow in the NCAA Tournament.
I feel like my job isn't done here yet. I think the bottom line, honestly, is not money - it's being happy.
Everyone will always like to make more money, but I think that in a situation here at the University of Arizona, I feel I'm in a great environment at a great school that definitely values education and definitely values athletics. I like that.
What is the best part of your job?
The best part is dealing with the players and watching them grow and working with my coaches. You share so much on and off the court that you learn so much about each other. That's definitely the most rewarding.
What is the worst part of your job?
The time away.
If the game was on the line, assuming everyone was playing exceptionally well, who would you go to for the final shot?
Reshea Bristol has been a great player in clutch situations and has proven experience. I would either go to Reshea (Bristol), Julie (Brase), or (junior forward) Liz Pickney because they are a little bit older and have played in a lot of games - along with clutch situations.