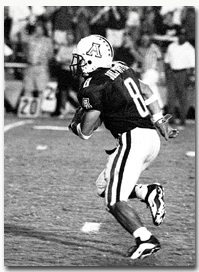 MATT HEISTAND
Arizona freshman cornerback Michael Jolivette returns an interception against Ohio State at Arizona Stadium. UA head coach Dick Tomey was angered about a hit Jolivette received this past weekend against Oregon.
By Ryan Finley
Arizona Daily Wildcat
Tomey reprimanded by Pac-10 for anti-referee remarks
UA head coach Dick Tomey was reprimanded by the Pacific 10 Conference yesterday after making comments regarding the referees in last Saturday's game against Oregon.
In a press conference Sunday, Tomey called a no-call on senior wide receiver Brad Brennan in the waning moments of UA's 14-10 loss to the Ducks "the worst I have ever seen."
According to Pac-10 bylaws, all coaches are prohibited from speaking out against referees.
"Even though Arizona lost a hard-fought game with considerable impact on the conference race, conference rules prohibit public comments about officiating of the nature Tomey made Saturday night," Pac-10 Commissioner Tom Hansen said in a press release.
The reprimand was expected by Tomey.
"I am probably going to get reprimanded by the league, and I could care less," he said on Sunday.
The reprimand is the first against Tomey this season.
---
Tomey was also quick to criticize a first-quarter hit on freshman cornerback Michael Jolivette, who was injured while covering a punt. The freshman missed the rest of Saturday's game with 11 stitches and numerous loosened teeth.
The hit angered UA players, including senior defensive tackle Joe Tafoya.
"I was more mad at how they were celebrating one of our guys getting hurt like that," Tafoya said. "It just made me want to go out there and ... kill somebody."
Tomey said that Jolivette was fortunate to be sidelined just one game.
"Michael was so lucky," Tomey said. "He was much more badly hurt than people know."
The hit by Oregon's Wesly Mallard - helmet-to-helmet contact that knocked Jolivette's helmet off - was made after the play was blown dead.
"The whistle blew, he slowed down, and the damn play was over," Tomey said. "You can't hit someone with your helmet."
Tomey said that the glorification of injury on television sports-highlight shows seems to encourage vicious hits in games.
"If you put (the hit on Jolivette) on SportsCenter, that glorifies that act," Tomey said. "You need to glorify a great play, not an illegal act."
Tomey - a member of the NCAA Rules Committee - hinted that harsher reprimands by individual conferences may be in the works in future years.
"The conferences should have the authority and render an opinion that could result in (suspension)," Tomey said.
---
Tafoya will continue to play this weekend after injuring his shoulder against Ohio State on Sept. 9.
Tafoya has been sitting out of practices every Tuesday through Thursday since the injury, which happened when the senior was hit by Jolivette, his own teammate.
"I was chasing the quarterback when he came flying in and took a shot," Tafoya said. "(Now) I try to go through practice without too much contact."
The senior seemed to re-injure his shoulder during an eight-tackle effort against Oregon on Autzen Stadium's OmniTurf.
"That turf was like playing on 40-grit sandpaper," Tafoya said. "It was hard like concrete, so it's still sore. Right after the game was the worst."
Tafoya has been getting cortisone shots from time to time to soothe the inflammation from a cartilage tear.
"The cartilage on my shoulder was partially peeled off," Tafoya said.
The injury is the kind that would render a baseball player virtually unable to throw.
"Good thing (I play football) - I wouldn't be playing at all," Tafoya joked.