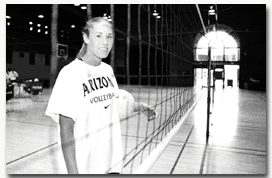 KEVIN KLAUS
UA senior middle blocker Marisa DaLee poses behind a volleyball net at Bear Down Gymnasium. DaLee is currently third in the nation in hitting percentage.
By Brian Penso
Arizona Daily Wildcat
When dominant UA athletes are talked about, names like Ortege Jenkins, Loren Woods, Amanda Beard and Shelley Duncan are frequently mentioned.
Add senior Marisa DaLee to that list.
The towering 6-foot-3 middle blocker is one of the driving forces behind the No. 5 volleyball team and is an intimidating presence on the court.
"She is such an intimidating factor to the other teams due to having one of the nation's best kill percentages," senior outside hitter Allison Napier said.
Currently, DaLee is third in the nation with a .448 hitting percentage.
"Her dominance shapes the complexion of our team and the way we attack," head coach David Rubio said.
DaLee's dominance was evident this past weekend as she tied the UA hitting percentage record for one game with a .750 kill percentage against Washington.
But stats are not the senior's main goal.
"I never thought I would be that high," DaLee said of her kill percentage. "If I am in the position to be No. 1 it would be nice, but my focus is on the success of the team and not my individual stats."
DaLee has put up great numbers in her previous three years, but this season, she is playing with a sense of urgency as it is her last chance to make a run at a national title.
"This is my final shot at winning the Pacific 10 Conference and making it to the Final Four and that would be great," DaLee said.
In order for her dream to become a reality, DaLee realized that she had to become more of a leader on and off the court during her senior season.
In the past, Rubio knew DaLee was a special player, but this year he said DaLee has come in to her own.
"She has matured and become a complete player as she has realized her role as a team leader," Rubio said.
One of the keys to her success has been her ability to finally grasp the importance of practice.
"In the past, practice has been a challenge for Marisa, but this year, she works hard each and every day on her game," Rubio said.
"In practice, I have to set an example for the young players," DaLee said. "I try to lead by example and be consistent. I want players to learn to trust me and count on me."
Besides the coaching staff, players have also noticed a change in her work ethic.
"She works so hard each and every day," Napier said. "She seems to get better each and every time she steps onto the court. She is just real impressive."
Along with becoming a better player, her motivation, determination and work ethic has begun to rub off onto the younger players on the team.
"As she improves, she is also helping to develop younger players like Stefani (Saragosa) and Shannon (Torregrosa)," Rubio said. "She will definitely make others around her better players."
Individually, DaLee is having a solid season, as she is second in the conference in blocks and seventh in kills. Despite her success on the court, DaLee said she needs to work a bit more on her consistency.
"My teammates look to me for consistency," DaLee said. "I feel that I need to be more consistent so I can be there for my team at every game when they need me."
On the court, DaLee is all about taking care of business, but off the court, she is a whole different person.
"As I have gotten to know her over the years, I have become real impressed by the way that she deeply cares for others as well as children," Rubio said. "She has a really big heart, and she has great awareness for others. She is just a great person."