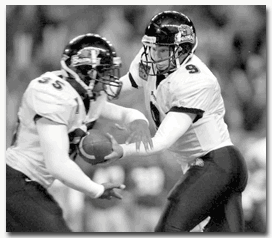 photo courtesy of the Associated Press
Oregon State quarterback Jonathan Smith hands the ball of to Ken Simonton against UCLA this past weekend. The Beavers defeated both USC and UCLA this year, marking the first time since 1920 that OSU has defeated both schools in the same season.
Arizona State
It wasn't last Saturda Devils survive air scare, must now face Oregon
y's 23-20 overtime victory against Washington State that had Arizona State players cheering.
Rather, it was the fact that their plane - which was hit by lightning twice on its way into Phoenix's Sky Harbor Airport - had landed safely despite having a hole in its tail.
"It was the buzz of the program on Saturday night and into (Monday)," Sun Devils head coach Bruce Snyder said. "I'm glad we don't have to get back up on a plane. I'm glad to be playing at home."
ASU's celebration will have to be short-lived, however. The Sun Devils will play host to conference-leader Oregon this weekend at Sun Devil Stadium in Tempe.
To Snyder, Oregon can be explained simply.
"We're playing a team that is playing better than everybody else," he said.
For now, however, the Sun Devils (5-2 overall, 2-2 Pacific 10 Conference) are happy to be on solid ground.
"The two lightning strikes ... checked everybody's hold card," Snyder said. "I guess that overtime win wasn't nearly as important as everybody thought. In a lot of ways, it's been a real fun year."
Washington State
Washington State (3-4, 1-3) dropped their second-straight overtime loss this past weekend, this time suffering a 23-20 defeat at the hands of Arizona State.
WSU head coach Mike Price is optimistic that the play of sophomore quarterback Jason Gesser will help turn the team around.
Gesser, a graduate of St. Louis High School in Honolulu, was part of a high school football powerhouse that included current Utah quarterback Darnell Arceneaux.
"We're talking about a kid who never lost a game in his life before coming to Washington State," Price said. "He's still dealing with that - it's a new thing for him."
Although Gesser leads the Pac-10 in passing efficiency, touchdown passes and passing yards, Price believes that the sophomore is more of a team-oriented player.
"Sometimes, you get quarterbacks who have egos," Price said. "I've had those guys before, and he's not one of them. He'd be willing to give up any record and honor."
The Cougars will take on second-place Oregon State Saturday in Corvallis, Ore.
Oregon State
Another week, another record. With last weekend's 44-38 victory against UCLA, the Beavers became the first-ever OSU team to defeat both Los Angeles schools since entering the Pac-10 in 1920.
The game versus the Bruins was a coming-out party of sorts for senior quarterback Jonathan Smith, who earned Pac-10 Offensive Player of the Week honors Monday after completing 23-of-37 passes for 351 yards and four touchdowns against UCLA.
"I don't have an answer for it," OSU head coach Dennis Erickson said. "He's throwing more accurately, throwing the deep ball better and making more plays."
The Beavers (6-1, 3-1) will play host to Washington State this weekend.
Stanford
It has to be tough to be Stanford head coach Tyrone Willingham. A week after defeating USC on the last play of the game, the Cardinal must host Washington and its marquee player, senior quarterback Marques Tuiasosopo.
"There's no question that Marques is a fantastic athlete - a winner, " Willingham said. "When you have a guy with that kind of ability, you have to do something to keep him in check. He's the number one guy you have to stop."
The Cardinal's stifling defensive line will have to be sure not to overcompensate for Tuiasosopo's ability.
"They have a lot of other weapons," Willingham said. "The running backs are good, and their tight end (Jerramy Stevens) is maybe the best in the conference. We need to be careful that we don't open ourselves up for wounds from the other guys."
Stanford (3-4, 2-2) defeated USC last Saturday when freshman quarterback Chris Lewis hit Jamien McCullum on a 20-yard corner route as time expired.
Washington
The year 2000 might as well be dubbed the Year of the Pacific Northwest. All three of the Pac-10's top teams (Oregon, Oregon State and Washington) come from the Northwest. The Huskies (6-1, 3-1) travel to Palo Alto, Calif., this weekend to take on Stanford.
UW head coach Rick Neuheisel is quick to defend the rest of the Pac-10 schools - according to the former UCLA quarterback, a shift of power may be inevitable, but it hasn't happened yet.
"It's way overstated to say that the power has shifted," Neuheisel said. "In this season, the northwest schools are ahead. To say that there is a power shift would be making way too much out of a one-phenomenon."
The key to success, according to Neuheisel, is recruiting well out of California.
"The population in the state of California is such that there are enough players there for everyone," Neuheisel said. "USC and UCLA can't keep them all."
Neuheisel and Washington plan to lure future recruits with an indoor practice facility which will be opened next year.