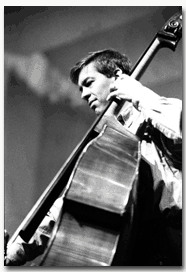 KEVIN KLAUS
Professor and composer Patric Neher practices his bass yesterday afternoon at Crowder Hall. His piece, "Gjauticurrattefiticus," is being performed for the faculty concert tonight in Crowder Hall at 7:30.
Arizona Daily Wildcat
UA faculty composer, bassist to perform tonight
Creating music is a personal venture for UA music professor Patrick Neher.
"I write music like some people write in a diary," said Neher, who will perform his own music tonight as part of the Faculty Artist concert series. "It's not an autobiography, but it's a reflection."
"Bass Ascending: The Music of Patrick Neher," represents a collection of his work that spans more than 20 years, with the most recent piece written just a few weeks ago.
Neher said that this is the first concert in which he has composed and performed music that is all his own.
"This (concert) is harder for me - it has a lot of emotional impact. (My songs) are written as a reflection of me," he said. "It brings back a flood of memories. I have to relive some of these old situations, and some of them I don't want to relive."
"Bass Ascending," Neher said, is set up as a palindromic performance - the first and last songs are sonatinas, moving in to instrument solos and voice performances until the central piece, "Gjauticurrattefiticus," is reached.
"'Gjauticurrattefiticus' is a cool piece where the dancer and bass player improvise," Neher said. "The whole piece is all under black light, the dancer wears bright colors and I wear white gloves so all you see are colors moving across the stage."
Though the performance is designated as a faculty showing, Neher recruited four students to perform in the show.
"He's (Neher) spending a lot of time and money on lighting and stuff. I'm not used to that," said music performance junior Topu Lyo, who will perform in the concert. "This (show) is a lot different than others I've done. A lot of it is visual. Especially with classical music, a lot of (shows) are not as much of a visual experience as it is with Patrick's."
Neher, both a composer and a performer, began his musical career playing the cello at the age of eight in New Mexico where he grew up. He began playing the bass about four years later.
"I didn't want to (play the cello), but I was too small to play the bass," Neher said. "I played the cello for four years and have been playing the bass for 30."
Although it may come as a surprise that he picked up such a large instrument at such a young age, Neher described his love of the bass as though it were second nature- his mother played the cello while she was pregnant with Neher.
"I have an affinity for lower sounds in general," he said. "I don't particularly like the violin. I don't like higher pitches. I'm actually very sensitive to them, I think."
Neher ended up at the University of Arizona mostly because of his love of the Southwest, but also because of his love for teaching.
"The (UA) School of Music is very supportive of its faculty, which is why I stayed here," he said. "It's difficult to recruit students, so we try to offer a program that is unique. The school does really well considering where we are (located)."
Though Neher may think students are hard to come by, those performing in "Bass Ascending" still seem to hold Neher and the School of Music in high esteem.
"He is so amazing at his instrument," Lyo said. "It's great to work with him and see that standard of excellence."
INFOBOX: Patrick Neher's "Bass Ascending" will show tonight at 7:30 at UA's Crowder Hall in the Fine Arts Complex. Ticket prices range from $4 to $10. For tickets, call 621-2998.