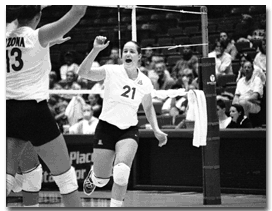 RANDY METCALF
UA junior setter Dana Burkholder celebrates after a point against UCLA at McKale Center.
By Brian Penso
Arizona Daily Wildcat
Arizona downs Cardinal in 3 games, takes season series 2-0
The fifth-ranked Arizona women's volleyball team once looked at Stanford as the Pacific 10 Conferences powerhouse. The team had never beated Stanford in head coach David Rubio's eight seasons at Arizona.
"One of my main goals at the beginning of the season was finally to get over the hump and beat Stanford," senior middle blocker Marisa DaLee said.
But things have changed in Rubio's ninth season.
Last night the Wildcats (18-2,11-1 Pac-10) completed a season sweep of No.17 Stanford(11-9,5-7 Pac-10) with a 16-14, 16-14, 15-5 victory at Palo Alto, Calif.
Arizona's first victory was somewhat incomplete, players and coaches felt, because Stanford was without its sophomore All-American outside hitter Logan Tom, who was in Sydney, Australia playing with the U.S. Olympic team.
Tom tallied a match-high 19 kills last night, but the Wildcats countered her attack with an onslaught of their own.
Arizona outhit Stanford .338 to .239 on 75 kills on 154 attempts with only 23 errors. The Wildcats also out-dug the Cardinal 55-43.
Individually, junior outside hitter Jill Talbot and DaLee countered Logan's attack with 26 combined kills.
DaLee recorded 15 of the 26 kills on 24 swings, along with only one error, which led to a .583 hitting percentage.
Sophomore outside hitter Lisa Rutledge continued to break out of her mini slump that she had been mired in recently with 14 kills on 28 swings. She also added four solo blocks, which was a match high.
"Lisa (Rutledge) had an all-around great game," Rubio said last night after the game. "All facets of her game were on tonight."
Arizona was successful at the net due to the play of junior setter Dana Burkholder, who contributed with 57 assists along with 11 digs and nine kills. Burkholder barely missed her third triple-double of the season.
"Dana's setting was just spectacular tonight," Rubio said.
Coming into the match, the Wildcats had some worries because of sophomore middle blocker Stefani Saragosa's tendentious in her right arm and senior defensive specialists Elvina Clark's unknown stomach ailment, who were both not expected to play.
Fortunately for the Arizona, Clark was able to play, and she contributed with nine digs.
Sophomore outside hitter Shannon Torregrosa filled in effectively for Saragosa, Rubio said.
"Shannon played terrific tonight," Rubio said. "Her play in the middle was really good and she helped us out greatly."
Rubio has worried a lot this season about his team's ability to put good teams away, but he was pleased with Arizona's play in pivotal points in the match.
The Wildcats began the first game with a 9-2 deficit, but came back to eventually take a 16-14 victory.
During the second game, Arizona faced two match points, but once again answered the challenge with a16-14 victory.
"The girls never seen to panic when the game becomes close," Rubio said. "They always feel that they will come out with the victory and tonight we executed well and took care of business when we needed to."
The Wildcats continue their road trip today with a cross-town trip to Berkeley to take on California (9-9, 4-7 Pac-10).
Cal is a team that Arizona players know they can not take lightly because the Golden Bears need a win to keep their post season hopes alive.
"Any team on any given night in the Pac can win, especially a team that needs to win down the stretch to make the playoffs," senior outside hitter Allison Napier said.
With Cal needing a victory, Rubio knows his team must show up and play solid volleyball in order to complete the Bay Area sweep.
"Everytime this season that we have had a chance for a let down we have gotten up for every game," Rubio said. "I am sure that we will be ready to play."