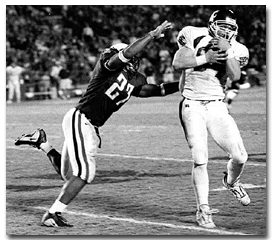 KEVIN KLAUS
UA sophomore linebacker Lance Briggs tackles a Washington State receiver at Arizona Stadium. The Wildcats host UCLA tomorrow at Arizona Stadium
By Ryan Finley
Arizona Daily Wildcat
UA seeking redemption from 1998 game
It's easy to remember the last time UCLA and the UA football team played at Arizona Stadium.
Both teams, ranked in the top-10 nationally, met on Oct. 10, 1998 in a game that ultimately decided the Pacific 10 Championship.
To the chagrin of a crowd of 58,378 people - nearly 3,000 fans over Arizona Stadium's capacity - UCLA managed to score 28 consecutive points and defeat the Wildcats in one of the most emotionally-charged games in recent UA history.
UA head coach Dick Tomey said the loss - the only blemish on UA's 1998 record - probably cost the Wildcats a shot at the national title.
"It was a nightmare," Tomey said. "That particular year, that was a stretch of five minutes that kept us out of the national championship game."
Tomorrow's game between the Bruins and the No. 24 Wildcats - which will begin at 4 p.m. at Arizona Stadium - could help the Wildcats earn redemption in front of their home fans while virtually eliminating UCLA's Pac-10 title hopes.
The Wildcats (5-2 overall, 3-1 Pac-10) nearly upset No. 7 Oregon last weekend in Eugene, Ore. and are enjoying a surprising season.
UCLA (4-3, 1-3) - a team that was ranked sixth nationally just over a month ago - has defeated Alabama and Michigan this season but has lost to teams such as California and Oregon State.
Despite their mediocre record, Tomey said that the Bruins' ability to strike quickly on offense worries him.
UCLA is averaging just over 29 points per game in 2000.
"They probably have the most explosive players on offense that we have seen so far this year," Tomey said. "No one has really shut them down offensively except for Oregon."
Stopping the Bruins will be a test for the UA's defense, which has been lauded throughout this season for its effectiveness against the run.
Junior running back DeShaun Foster, who is returning slowly since breaking his right hand on Sept. 30 against Arizona State, has a history of success against the Wildcats.
Against UA in 1998, Foster had 118 yards on 20 carries and scored two touchdowns.
"He's just a scary guy," Tomey said. "He's the kind of guy that can gain nothing and then break one. If you watch (films of) him against Alabama, he's just awesome." Foster will wear a soft cast against the Wildcats.
"We've got to get a handle on Foster," junior defensive tackle Anthony Thomas said. "He's a heck of a player. It's going to be a big test this week. He's back."
Arizona's defense will attempt to counter UCLA's offensive threats with its trademark "double-flex eagle" defense.
"The team doesn't make a lot of mistakes," UCLA head coach Bob Toledo said. "They put a lot of pressure on you, they sack you. It's like preparing for run-and-shoot or the wishbone on offense: there's not a lot of plays you can run against it.
Sophomore linebacker Lance Briggs - who leads UA with 55 total tackles - will likely be called upon to help control the Bruins.
"Lance has improved as much since the first game as much as anyone on the team," Tomey said. "Early in the year, he was not playing as hard consistently."
An early-season talk between Briggs and Tomey has helped to keep the sophomore grounded.
"The hardest thing in the world was for him - after the first couple games - was to listen to everybody say what a terrific player (he) was," Tomey said. "I told him 'don't listen to that, because you're not. You have a chance to be. You've got to play hard every play.' He's bought into that."